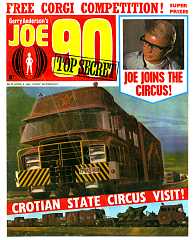 Features are
Agents' Fotofile
(readers' photographs), a competition to win 50 Corgi Gift Sets (Oldsmobile Tornado with Glastron Sportsman Speedboat),
Joe's Hobbies (The Story Of Space Travel Told In Stamps No. 12)
,
World Intelligence Network
(quizzes and jokes),
Champions Of Sport - Diane Towler and Bernard Ford
,
The B.I.G. R.A.T. Tells The Story Of Putting The Atom To Work
, and
Great Britain Eleven No. 2 Full Back - Eddie McCreadie
.