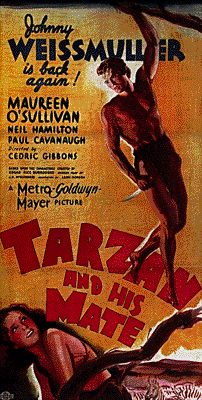 The greatest Tarzan, Johhny Weissmuller starred in the 1934 movie, Tarzan and His Mate based on the character created by Edgar Rice Burroughs. It was Johnny Weismuller's second and arguably his greatest Tarzan film. In 2003, the United States Library of Congress deemed the film "culturally, historically or aesthetically significant" and selected it for preservation in the National Film Registry.
The film begins with Tarzan and Jane Parker living in the Jungle. Harry Holt, with business partner Martin Arlington, meet up with them on their way to take ivory from an elephant burial ground. Holt tries to convince Jane, who was with him on his first trip to the jungle, to return with him by bringing her gifts from civilization including clothing and modern gadgets but she tells them she'd rather stay with Tarzan.
When Tarzan learns that the two men wish to loot the elephant's graveyard, he will have nothing to do with it; so Martin shoots an elephant so it can act as an instinctive guide. Only Jane's intervention keeps Tarzan from murdering Martin. But Martin's attempt to remove the ivory is thwarted when Tarzan appears with a herd of elephants. Martin feigns repentance, and promises to leave the next day without the ivory.
Early the next morning, Martin attempts to kill Tarzan, and Jane thinking him dead, decides to return to civilization. Meanwhile, Cheeta and his ape friends nurse Tarzan back to health in time for him to stop the men who shot him. But they are attacked by lion men, who summon lions to help them kill the members of the safari. Both Martin and Holt are killed, and Jane is in danger from lions. Then, Tarzan and an army of apes and elephants arrive in time to rout both the lion men and the lions, after which they return the ivory to the elephants' graveyard.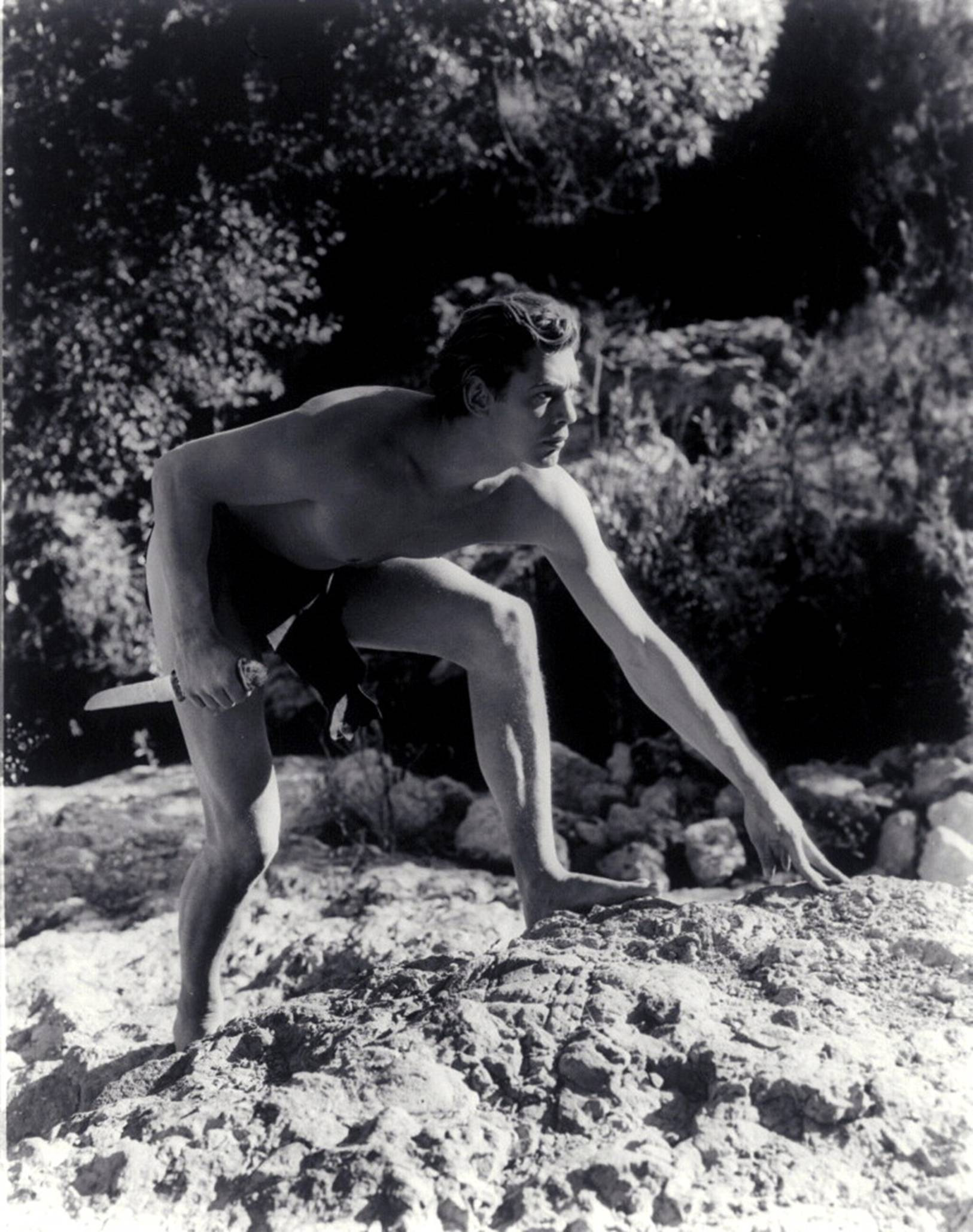 For an infamous swimming scene in this pre-code film, alternate footage was shot of Jane in various stages of dress, ranging from totally nude to fully covered. According to film historian Rudy Behlmer: "From all evidence, three versions of the sequence eventually went out to separate territories during the film's initial release. One with Jane clothed in her jungle loin cloth outfit, one with her topless, and one with her in the nude." Maureen O'Sullivan did not play the naked Jane in the alternate footage; she was doubled by Olympic swimmer Josephine McKim, who competed in the 1928 games with Johnny Weismuller. A version with alternate footage with Jane swimming nude or topless was restored in 1986 by Turner Entertainment for its video release.
Like other Tarzan/Weissmuller films, the elephants were Indian and not African. Large ears and tusks were fitted onto the animals in an attempt to make them look authentic.
Tarzan rides a rhinoceros in one scene - a first for film. The rhino, Mary, was imported from the Hagenback Zoo in Hamburg, Germany. Weismuller did the scene himself, sustaining only minor scrapes to sensitive places from Mary's rough hide.
Tarzan and His Mate




theatrical poster

Directed by
Cedric Gibbons
Jack Conway(uncredited co-director)
James C. McKay (uncredited)
Produced by

Bernard H. Hyman

Written by
Edgar Rice Burroughs(characters)
James Kevin McGuiness (screenplay)
Howard Emmett Rogers(adaptation)
Leon Gordon{adaptation)
Starring
Johnny Weissmuller
Maureen O'Sullivan
Neil Hamilton
Paul Cavanagh
Cinematography
Clyde De Vinna
Charles D. Clarke
Editing by

Tom Held

Distributed by

MGM

Release

date(s)

April 16, 1934

Running time

104 minutes

Country

United States

Language

English

Budget

$1,279,142 (est)