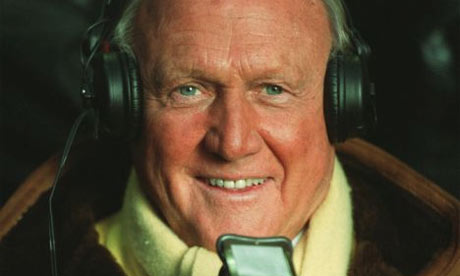 There can be no-one in the history of
It's A Knockout
who so personified and represented everything that the fun and games were about as Stuart Hall. A gifted wordsmith with an infectious sense of humour and a laugh that millions will never forget, Hall has excelled in a diverse cross-section of broadcasting since the 50s.
Stuart Hall was born on Christmas Day, but the year in question has been subject to speculation. In 1993, he told
The Observer
that he would be 64 and that can be verified elsewhere. However for some time
Who's Who in Manchester
used to include an entry for James Stuart Hall, born in 1934. Childhood was spent in the Cheshire town of Hyde and his early life with his father James Stuart, mother Mary and younger brother Keith, encompassed the family business of baking. He was educated at Glossop Grammar School, where he achieved high academic accolades, captained the football team and became head boy. He attended UMIST - the University of Manchester Institute of Science and Technology - and following his National Service, joined the family business as the Director of Catering.
Sporting endeavours were and are an integral part of his make up and as a young man he played professional football for Crystal Palace FC, playing in the position of wing half. His love of motor sport has remained constant; racing cars around circuits such as Silverstone and Oulton Park. So it was in 1957 at the Cheshire motor sport circuit of Oulton Park that the prowess for a career at the microphone began to blossom. In an interview for
Loaded
magazine he said he took to commentaries like fresh-water salmon to a river. He joined the BBC in 1959 and contributed to
Sports Report
,
Radio Newsreel
,
A Question of Sport
and
Grandstand
where in his role as a roving (or should that be raving?) reporter took him to a first assignment at a motorcycle scramble.
QuizBall
and
Pot The Question
were other national networked shows in which he took the chairman's seat.
The saga moves on to 1965 and the start of the BBC's production of regional news magazines across Britain.
Look North
was to be the vehicle from Manchester for all points from Windermere in the North to Crewe in the South. In a quarter of a century under various guises -
Look North
,
Look North West
and
North West Tonight
, Stuart became the face and voice of the region's output. He was to viewers in Blackpool and Rochdale what Alan Towers was in the Midlands, Ian Masters in East Anglia, Mike Neville in the North East and Bruce Parker in the South. He thrived in an environment where the hard, serious news of the day would be read and then anything could happen and usually did. It was the opportunity for Stuart to display his versatility. If you ever meet Stuart, ask him about the 1972 Christmas Pudding disaster and I'm sure you'll get the details at full throttle. As a viewer, what was really special on nights when
Jeux Sans Frontières
was due to be aired was that he would hand back to
Nationwide
in London by saying, "and don't forget to join me when Oldham represent Great Britain in Évry at 8.15pm tonight". Fantastic!!!
The BBC changed its local news output in the late 1980s. This was the era of John Birt's regime at the Corporation and Birt had a preference for hard news and little individualism. Other factors came into play too, but the love affair between the BBC and Stuart Hall had ended. It is regrettable that Stuart never got the opportunity to wish BBC viewers a final fond farewell in 1990.
Stuart characteristically bounced back and was soon found appearing rather than presenting on the local ITV news programme
Granada Tonight
, sparring with former rival Bob Greaves. He has participated in a plethora of programmes for Granada.
Travellers Check
,
Stuart Hall's Christmas in Bosnia
,
Stuart's Hall of Fame
,
Quiz Night
,
God's Gift
and
The Way We Were
are amongst an extensive list.
On radio, Sports Report has remained a constant motif for Stuart. His reports from Anfield (The Coliseum), Goodison Park (The School of Science), Maine Road (The Theatre of Base Comedy), Wembley Stadium (The Slope) etc, etc have now reached legendary status. He tells the listeners the story of the game, but it is wrapped in a language that some cannot comprehend, but others lap up to their heart's content. His descriptions of particular players are mind-blowing but often perceptive: Mick Jones of Leeds United was described as a sweating, plunging Lincolnshire dray, Wolves' Steve Kindon was likened to a runaway wardrobe, while Liverpool's Tommy Smith was compared to a dyspeptic water buffalo. His idiosyncratic reportage is an acquired taste. But when the BBC produced a cassette to celebrate Sports Report's 40th anniversary in 1988, there amongst all the famous events chronicled by some of the greatest exponents of the broadcasting art was Stuart's report on the 1987 Manchester derby match which remains priceless.
In 1998, when the BBC produced a book to commemorate the 50th anniversary of Sports Report, a chapter was devoted to Stuart's escapade at the 1977 European Cup Final in Rome. Having used up most of the local BBC funds to get a local view on events in the Eternal City, he was refused permission to enter the Olympic Stadium. The players and management of Liverpool FC thought differently and on the eve of the club's greatest achievement, film and sound equipment was smuggled into the dressing room via kit bags and Stuart was also kitted out with a tracksuit and a shirt with a number 14 on the back. He watched the Final from the substitutes bench alongside legendary striker John Toshack, collected souvenirs such as the shirt of Berti Vogts who had played for the losers of Borussia Monchengladbach, plus the dressing door key and most of all got the film of one of British football's greatest moments.
Also on the wireless, he hosted a regular Friday night programme on BBC Radio 2 from Manchester and for number of years in the 1980's, Stuart Hall's Sunday Sport on Radio 2's medium wave frequency. To give a flavour of the latter here are his opening remarks from a show in September 1987: "Welcome to Stuart Hall's Sunday entombed in the bowels of Broadcasting House in sun-kissed Londinium. The sun blazes down - or does it - and kisses are certainly not prevalent at our three main venues. It's deadly serious and climax time for Europe in the Ryder Cup Singles at Muirfield Village, Ohio - Ian Woosnam leads the charge at 2.30. In Spain, Nigel Mansell with paranoia, ruffled feathers and a $3000 dollar fine must win the Spanish Grand Prix to stay alive and in Brazil - My Boy - Wayne Gardner needs to win to take his first World Championship on two wheels".
So eventually to It's A Knockout and Jeux Sans Frontières. As you will know from viewing the website, Stuart's connection with the series began long before his arrival as main presenter in 1972. But in the decade from then,Knockout and Stuart Hall fitted in place together like a hand in glove. He has admitted that when he joined Knockout he thought the show was very downmarket and the balance between games of physical strength and slapstick needed to be addressed. It happened gradually and with each passing year the dream team of Stuart, Eddie and Arthur pulled in greater viewing audiences and the programme became a staple part of the BBC's summer and autumn schedules. I have yet to hear anyone else on television introduce a programme like Stuart did with Knockout. I have yet to hear any other broadcaster combine the duel tasks of projecting the atmosphere to viewers while maintaining the excitement at the venue so well. He was able to mix high levity and north country wit that gave the show an edge.
There is no doubt that through Knockout, Stuart had become ingrained on the conscience of the British viewing public. It has to be said that it was the famed laugh that brought notoriety and acclaim in equal measure to Stuart. He has described laughter as the safety valve in our often hard and serious lives. Some have suggested that his laugh could be turned on and off like a water tap, but laughter is a natural emotion for everyone and being a man of emotion and passion, for Stuart his hilarity was part of his make up and it became his trademark. The comic writer Barry Cryer once said the famous maxim, "he who laughs last, laughs longest" should be amended to "he who laughs last...is Stuart Hall". Knockout fans I'm certain would testify that the famous Penguins of Aix-Les-Bains in 1974 or the Budgies on show at Sherborne in 1981 would not have been as amusing if it wasn't for Stuart's raucous laughter while at the microphone. There are hundreds of similar examples that could be chosen, but a fitting tribute to the laugh would be from Willi Steinberg the Jeux Sans Frontières games designer for German television who once said to Stuart, "if you laugh, we know the game is good and funny".
In 1999, an early day motion was presented to the House of Commons in celebration of Stuart's forty years in broadcasting. The motion was endorsed by no less than eighty-two members of the club with the famous green benches. It congratulated Stuart Hall on his unique style that has endeared him to millions, his use of the English language in his football reporting that has made him an icon to the youth of today and a mellifluous voice redolent of Sinden and Gielgud intertwining Shakespeare, Keats and Wordsworth. I can only agree wholeheartedly with the sentiments of our elected representatives.
Stuart Hall - a Christmas child, a baker's boy and a television treasure, whose gift was to enrich life for the millions he connected and engaged with, in an illustrious life and career. Though I could never be him, it's never diluted my admiration of him.