The
Brighton hotel bombing
happened on 12 October 1984 at the Grand Hotel
in Brighton
. The bomb was planted by the Provisional Irish Republican Army
(IRA) member Patrick Magee
, with the intention of assassinating Prime Minister, Margaret Thatcher
and her cabinet who were staying at the hotel for the Conservative Party
conference.
Patrick Magee had stayed in the hotel under the false name
of Roy Walsh during the weekend of 14–17 September 1984. During his stay, he planted the bomb (fitted with a long-delay timer made from video recorder
components) under the bath in his room, number 629.
The bomb detonated at 2:54 a.m. on 12 October. Margaret Thatcher was still awake at the time, working on her conference speech for the next day in her suite. It badly damaged her bathroom, but left her sitting room and bedroom unscathed. Both she and her husband Denis escaped injury. She changed her clothes and was then escorted out of the rear of the hotel by the security guards and driven to Brighton police station. She and her husband were then taken to Sussex Police Headquarters at Lewes, where they stayed for the rest of the night.
As she left the police station, she gave an impromptu interview to the BBC's John Cole at around 4:00 a.m., where she said the conference would go on as usual. Alistair McAlpine persuaded Marks & Spencer to open early at 8:00 a.m. so those who had lost their clothes in the bombing could get new ones. Thatcher went from the conference to visit the injured at the Royal Sussex County Hospital.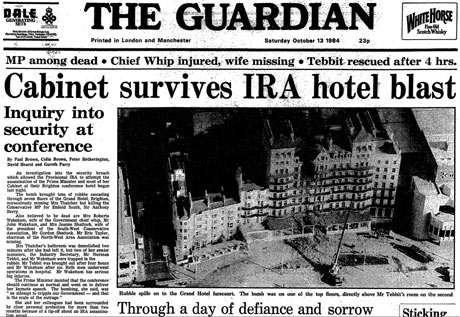 The bomb failed to kill Thatcher or any of her Government Ministers. Five people, however, were killed, including Conservative MP Anthony Berry and Parliamentary Treasury Secretary John Wakeham's wife Roberta. Sir Donald Maclean and his wife, Muriel, were in the room in which the bomb exploded: Lady Maclean was gravely injured and later died as a consequence of the explosion while Sir Donald was seriously injured. The other people killed by the blast were Eric Taylor and Jeanne Shattock. Several more, including Margaret Tebbit — the wife of Norman Tebbit, who was then President of the Board of Trade — were left permanently disabled. Thirty-four people were taken to the hospital and recovered from their injuries.
The IRA claimed responsibility the next day, and said that it would try again. Its statement read:
"Mrs. Thatcher will now realise that Britain cannot occupy our country and torture our prisoners and shoot our people in their own streets and get away with it. Today we were unlucky, but remember we only have to be lucky once. You will have to be lucky always. Give Ireland peace and there will be no more war."
Margaret Thatcher began the next session of the conference at 9:30 a.m. the following morning as scheduled. She omitted most of her planned attacks on the Labour Party from her speech and claimed the bombing was "an attempt to cripple Her Majesty's democratically elected Government":
"That is the scale of the outrage in which we have all shared, and the fact that we are gathered here now—shocked, but composed and determined—is a sign not only that this attack has failed, but that all attempts to destroy democracy by terrorism will fail."
One of her biographers wrote that Thatcher's "coolness, in the immediate aftermath of the attack and in the hours after it, won universal admiration. Her defiance was another Churchillian moment in her premiership which seemed to encapsulate both her own steely character and the British public's stoical refusal to submit to terrorism". Immediately afterwards her popularity soared to near-Falklands levels. On the first Saturday after the attack, Thatcher said to her constituents: "We suffered a tragedy not one of us could have thought would happen in our country. And we picked ourselves up and sorted ourselves out as all good British people do, and I thought, let us stand together for we are British! They were trying to destroy the fundamental freedom that is the birth-right of every British citizen, freedom, justice and democracy".
Patrick Magee was tailed for months by MI5 and special branch, and finally arrested in an IRA flat in Glasgow. Despite days of interrogation he refused to answer questions - but a fingerprint on a registration card recovered from the hotel ruins was enough to convict him. While he admits he was part of the team that carried out the bombing, he still does not accept the fingerprint on the registration card was his. "If that was my fingerprint I did not put it there," In September 1986, Magee, then aged 35, was found guilty of planting the bomb, detonating it, and of five counts of murder. Magee received eight life sentences: seven for offences relating to the Brighton bombing, and the eighth for a separate bombing conspiracy. The judge recommended that he serve a minimum term of thirty-five years. Later, Home Secretary, Michael Howard increased this minimum to "whole life". He was released from prison, however, in 1999, having served only fourteen years (including the time before his sentencing), under the terms of the Good Friday Agreement. A Downing Street spokesman said that his release "was hard to stomach" and an appeal by then Home Secretary Jack Straw to prevent it was turned down by the Northern Ireland High Court.
Magee, while admitting being part of the IRA unit responsible, maintains that the fingerprint evidence on a registration card from the hotel was faked.