I have been sitting this morning watching the superb 1946 Feature film, "Green for Danger" which starred amongst others, Alastair Sim and Trevor Howard. I'd seen this film numerous times before but forgotten just how good the film was, so much so that I have decided to do a post all about the film. Hope you enjoy!
Green for Danger the 1946 British thriller was based on the popular 1944 detective novel by Christianna Brand.
The book Green for Danger was praised for its clever plot, interesting characters, and wartime hospital setting. The film version, starred Alastair Sim and Trevor Howard, with Sally Gray and Rosamund John. The film was shot at Pinewood Studios in England. The title is a reference to the colour coding used on anaesthetists' gas bottles.
Set in August 1944 during the V-1 Doodlebug offensive on London, a murder takes place in Heron's Park Emergency Hospital, a rural British hospital somewhere in the South East of England. Joseph Higgins dies on the operating table after being injured by a flying bomb. The anaesthetist, Barney Barnes has had a patient die in similar circumstances previously. Inspector Cockrill is asked to investigate when Sister Bates is killed after revealing that the death of Higgins was not an accident.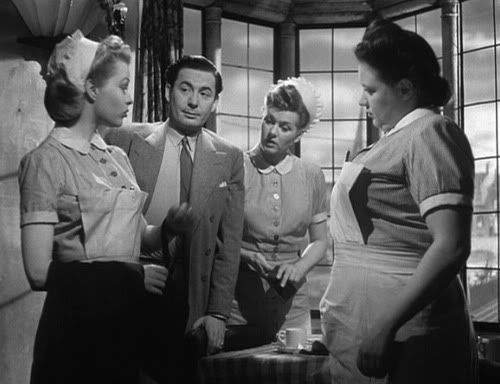 Cockrill states at one point "My presence lay over the hospital like a pall - I found it all tremendously enjoyable." Cockrill's investigation is hampered by the conflict between Barnes and Eden because of their competition over the affections of nurse Freddi. After another murder attempt leaves Freddi supposedly dangerously ill, he restages the operation in order to unmask the murderer.