Yes folks, it's time to pay homage to the saturday morning legend that was TISWAS. Tiswas was a Saturday morning children's British Television series which ran from 5 January 1974 to 3 April 1982 and was produced for the ITV network by ATV Network LTD.
It was created by ATV Continuity Announcer Peter Tomlinson (later to become a regular presenter on the show) following a test period in 1973 when he tried out a few competitions and daft stuff between the programmes. It had a fanatical following among students and parents.
The word 'tiswas' means a state of confusion or commotion, but the show's name 'officially' stood for "Today Is Saturday, Watch And Smile
Tiswas began life as a 'links' strand between many 'filler' programmes, such as cartoons and old films. The popularity of the presenters' links soon eclipsed the staple diet of filler.
It was originally produced as a Midlands regional programme by ATV and was first broadcast live on 5 January 1974. The then federal structure of ITV, with its independent regional companies, meant that not all of these operations broadcast the show when it became available for networked transmission. Over a period of time, most ITV regions did, with Granada Television and Southern Television being the last in 1979. Tyne Tees finally decided to take Tiswas for its final series in 1981. The smallest broadcaster in the network, Channel Television, did not carry the programme.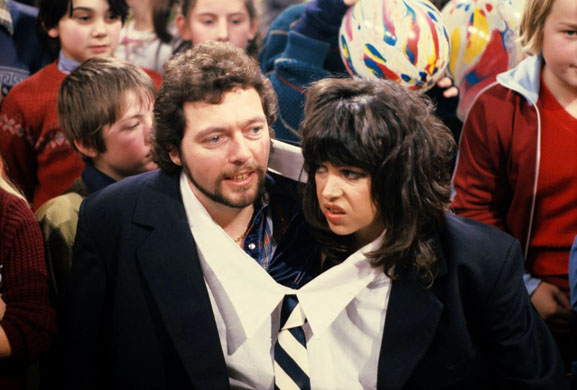 (Sally James with Jeremy Beadle way back in 1982)
Most famously hosted by Chris Tarrant between 1974 and 1981, and later Sally James, it also featured the young Lenny Henry and occasionally Jim Davidson together with Bob Carolgees and his puppet, Spit the Dog. John Gorman, former member of 1960s cult band The Scaffold, was also in regular attendance. On the programme, Birmingham folk-singer and comedian Jasper Carrott was to introduce the nation to the

Dying Fly Dance

and also to many local hospital casualty wards as the dance at one point soared high in the RoSPA list of common causes of household injury. Like its cleaner BBC counterpart,

Multi-Coloured Swap Shop

, it had a running order but no script (with the exception of some specific sketches). The programme was broadcast from Studio 3 at ATV Centre

in Birmingham

; this was the weekday home for the company's regional news magazine,

ATV Today

.
The show was a stitch-together of competitions, film clips and pop promos, just about held together by sketches and links from the cast. The show also regularly featured spoofs of BBC children's programming.
A feature of Tiswas was The Cage wherein initially the child audience, and later their fathers, were confined and periodically doused in water (one spin-off of the series was the hit The Bucket of Water Song, performed by the Four Bucketeers), whilst the series was also frequently visited by the Phantom Flan Flinger, who would throw flans around the studio at all and sundry. Both Tarrant and the Flan Flinger would take great delight in trying to 'flan' cameramen who would go to great lengths to avoid being hit.
The original logo features the word "TISWAS" in chunky letters. A later version of this logo featured a circle going round the edge with "Today Is Saturday Watch And Smile" embossed upon it. The classic 'Zig-zag' logo appeared in 1977 designed by Stuart Kettle - this initially featured a mechanical bird flying above it, but later, Chris Wroe (who drew all of the classic caricatures of the Tiswas team) replaced this with a drawing of the Phantom Flan Flinger.
The first series was intended to be eleven episodes, purely acting as links between the usual staple fillers of old films and cartoons that ATV would transmit on Saturday mornings. Presented by Chris Tarrant and John Asher from just a desk in a continuity studio, the pair had to rely on ad-libs and jokes sent in by viewers. Within a few weeks, the show was moved to studio 3 at ATV Centre (a studio usually reserved for amongst other programmes, the news magazine programme, ATV Today) from which Tiswas was produced for the majority of its run.
Due to an industrial dispute by technicians at Associated Television, this initial run was only nine programmes in all, but was so well received that a second series was commissioned.
Billed in TV Times as "Today Is Saturday or the Tis-was Show", the title sequence features both "Today Is Saturday" and the original "Tiswas" chunky letters logo, shown over a background very similar to that of The Golden Shot. The sequence featured clips from various films and Disney cartoons, backed by a funky jazz number known as "Atomic Butterfly" (which also seems to have been used for Sports Arena, an HTV Wales sports programme in the early 70s).
Series 2 of Tiswas began from late 1974, and spanned almost every Saturday in 1975, finishing in early 1976. The presenting team was doubled to four presenters, and these were usually culled from ATV's presentation department. Chris Tarrant and John Asher retained their roles as the main presenters, although John would leave during this series. From the ranks at ATV, other regular presenters were established, notably sports reporter Trevor East (later director of sport at Setanta Sports) and announcer Peter Tomlinson (later to become managing director of Saga Radio West Midlands and High Sheriff of the West Midlands).
Producer Peter Harris would leave the show in the summer to help produce another cult TV success - The Muppet Show, at ATV's London-orientated operation in Elstree.
Running from late 1976 to early 1977, Chris Tarrant, Peter Tomlinson and Trevor East were the main presenters. Almost all these shows were produced by Sid Kilbey. The 2 April 1977 show was a landmark edition, as part of the programme was broadcast outside the Midlands for the first time, on HTV Cymru Wales and HTV West, filling up their 'round-the-regions' compilation of Saturday morning programmes called Ten On Saturday. The series, running from late 1977 to early 1978, marked an end to the provincial macro-budget shows of the previous shows, as the initial edition of this series began with some significant changes. Sally James was drafted in as the series' first regular female presenter. She had been the presenter of a regional Saturday morning show in London called Saturday Scene, produced by LWT. Comedian Jim Davidson was intended to be a regular presenter, but left after only a few editions, although he would return for cameo appearances. Peter Tomlinson was axed as a regular, which came as a surprise to him.
Chris Tarrant was still retained as the anchor presenter, and behind the scenes was annoyed with the changes, particularly the inclusion of a woman as presenter. However, he later retracted this viewpoint, having witnessed the progress Tiswas had made with Sally's contribution.
One significant change almost never happened. ATV management were displeased with the visual slapstick element - the hurling of custard pies and water. They believed this was setting a bad example to the young viewers. Newly-drafted producer/director Glyn Edwards managed to retain this vital, messy element by drawing on his experience as a Punch & Judy puppeteer to create a 'villain' character called 'The Phantom Flan Flinger', who would be the black-clad masked nemesis of the presenting team, and the main instigator of pie-throwing chaos. The "phantom" was later revealed to be Ben Mills, a taxi driver from Cheswick Green, Solihull.
Series 5 ran from late 1978 to early 1979. John Gorman became a regular performer from November onwards. Bob Carolgees made his debut in early 1979, having been told to go on the programme by Irish comic Frank Carson. Carolgees appeared again two weeks later, and Chris was so pleased with his contribution that he decided to make a regular fixture out of Bob. Lenny Henry made sporadic appearances throughout this series, but was not established as a regular. Child performer Paul Hardin increased his visits to the studios, and could well be considered as a series 5 team member, likewise Sylvester McCoy (who added an "r" to his first name later in his career) who performed surreal comic interludes.
ITV had been off the air across the nation since August due to a massive strike by technicians. Tiswas returned to the screens in November 1979 for its sixth series, as part of ITV's comeback; this was directly referenced in the first edition of the new series, when the "Welcome Home To ITV" jingle was played to usher the programme in and out of the advert breaks, albeit replacing the vocals by the Mike Sammes Singers with a group of deliberately out-of-tune children. Many ITV regions took the programme for the first time, establishing the show strongly in the nation's consciousness. London-based viewers tended to complain to the Independent Broadcasting Authority (IBA) about some of the edgier moments the show had.
With an almost national audience, the show became inclusive of its increased viewership by making a bigger role out of specially invited viewer performances. Many of these were children who sang songs or performed dance routines. Chris Tarrant, now producer as well as presenter, found most of these contributions to be of little value, until he came across a unique act by a five year old boy called Matthew Butler. Encouraged by his Tiswas-obsessed mother, Matthew auditioned for the series wearing a rabbit costume and sang the song 'Bright Eyes' made famous by the animated film Watership Down, although his own singing ability was rather poor. Chris found this so amusing that he arranged for him to appear on the following Tiswas, as well as many subsequent editions. Also appearing a number of times in this series was Norman Collier, the Yorkshire comedian best known for his broken microphone routine and chicken impressions.
By Series 7, ATV had increased the budget for Tiswas, and Chris Tarrant had more of a say in the programme's production than ever before. A proper theme tune was created for it, and the studio set was based around ATV cartoonist Chris Wroe's caricatures of the presenting team. This series can be considered as the definitive series, due to the material drawn from this era that usually gets an airing on documentaries and clips shows when Tiswas is the subject. In addition, the three video compilations that have been released for sale have been packaged around a seventh series theme, with the bulk of the clips also being from this age.
Midway through this series, Chris Tarrant decided to leave upon the series' conclusion. Also leaving him, on the final edition of series 7, were Bob Carolgees, Lenny Henry and John Gorman. They had decamped to start work on O.T.T., a late night version of Tiswas intended for an adult audience, which would debut in 1982. The only regular Tiswas presenter left was Sally James, who stayed on for series 8.
The last series of Tiswas, beginning in September 1981, and ending in April 1982, had its format heavily tinkered with by ATV management. They believed that the adult audience should be avid viewers of Chris' 'late-night Tiswas', and that Tiswas itself should focus on its child audience. With this well-intended alteration, the original standard of Tiswas, with its adult undertones, deteriorated.
The new presenting team consisted of Midlands DJ Gordon Astley, former Darts frontman Den Hegarty and comic impressionist Fogwell Flax. Veteran Tiswas presenter Sally James stayed on and became the series' Music Editor, but decided to leave towards the series' end. This was likely to be one of the main factors in Central Television's decision not to bring the programme back for a ninth series. Semi-regulars were dwarf actor David Rappaport who played characters such as 'Green Nigel' (in a pastiche of BBC programme Blue Peter) and the Fonz-like 'Shades', Emil Wolk and puppeteer Trevor James with a giant parrot, presumably in a way to fill the void left by Bob Carolgees. One Nine for Santa, was released by Fogwell Flax & the Anklebiters and featured on the show during December 1981. At the end of 1981, a restructure of ITV's broadcast franchises saw ATV win back the franchise for the Midlands on condition of changes in management, regional output and branding. The first part of the final series was therefore produced by ATV and the second part by Central Independent Television.
The decision by TVS, the new ITV station in the south and south east of England, to drop the Central-produced half of the last series in favour of their own Saturday morning programme No 73 saw fans of Tiswas picket outside their Southampton Studios studios. The eighth series was broadcast on TVS upon the end of No 73;s first series. During its ATV days, the legendary chairman of ATV Lew Grade, is said to have taken a personal dislike to the show but was persuaded to let it continue, even arguing in its defence to criticism from the IBA). It was believed that the new management at Central frowned upon the anarchy of Tiswas (and the common popularity of another production, the Soap Opera Crossroads) and in a desire to make the station more upmarket than its previous incarnation as the populist ATV, took the evidence of declining audiences for the new format to axe Tiswas after series 8.