Green Shield Stamps were a sales promotion or incentive loyalty scheme using trading stamps, designed and deployed in the United Kingdom and Ireland to encourage or reward shopping, by being able to buy gifts. Green Shield Trading Stamp Company was founded in 1958 by entrepreneur Richard Tompkins, and the stamps were withdrawn in 1991.
Green Shield Stamps were almost everywhere in the Britain of the 60s and 70s. If you bought your groceries at certain shops the retailer gave you stamps to stick in a book. Once you had collected enough you exchanged the books for gifts. Most people can remember Green Shield Stamps, but there were other schemes. Does anyone remember Blue Star, Gift Coupon, Happy Clubs, Thrift Stamp, Uneedus Bonus, Universal Sales Promotions or Yellow Stamps?
Trading Stamps first became popular in the United States. Sperry and Hutchinson began offering stamps to United States retailers in 1896. They bought stamps from S&H and gave them as bonuses with every purchase based on the amount purchased. The stamps were given away at filling stations, corner shops and supermarkets. When the customer had collected sufficient stamps in collectors' books, the shopper claimed merchandise from a catalogue or S&H Green Stamps shop.
Richard Tompkins purchased the name Green Shield from a luggage manufacturer and founded Green Shield Trading Stamp Co in 1958, along similar lines to S&H Green Stamps. They were popular during the 1960s and 1970s. Competing trading stamp schemes included Pink Stamps (a UK operation of S & H Green Stamps), British Consumer Co-operatives dividend stamps, Blue Chip and the short-lived UK operation of King Korn.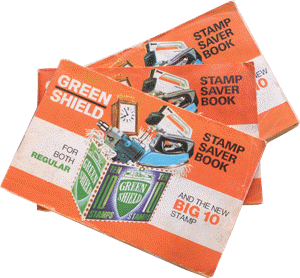 Tesco founder Jack Cohen was an advocate of stamps; he signed up in 1963, shortly after his competitor Fine Fare adopted S&H Pink stamps and Tesco became one of the company's largest clients. But Cohen was a fan of pile it high and sell it cheap, and in the mid-1970s faced cost problems associated with not integrating its stores. In 1977 Tesco launched Operation Checkout, price-cutting aimed at countering the new discounters such as Kwik Save. A decision was made to abandon Green Shield stamps, saving £20m a year and helping to finance price reductions.
In light of a price war, and higher prices where the stamps were sold, consumers prices were rising to cover costs - and as inflation was high, the value of the stamps was going down. As sales slowed and other retailers abandoned the scheme, Green Shield Stamp catalogue shops were rebranded Argos in July 1973. The company suspended sale of stamps in 1983, then had a short revival in 1987 involving 2,500 shops, finally ceasing in 1991