Mark Andrew Spitz
won
Seven Gold Medals
at the
1972 Olympic Games in Munich
, an achievement surpassed only by
Michael Phelps
who won eight golds at the
2008 Olympic Games
.
Disappointed in his 1968 Olympic performance, Spitz entered
India University
to train with legendary coach
Doc Councilman
who was also his coach in Mexico City. While at IU, Spitz won 8 individual NCAA titles. In 1971, he won the James E Sullivan Award
as the top amateur athlete in the United States. Spitz also set a number of world records during the U.S. Olympic swim trials
held in Chicago's Portage Park
in 1972.
He was nicknamed "Mark the Shark" by his team mates.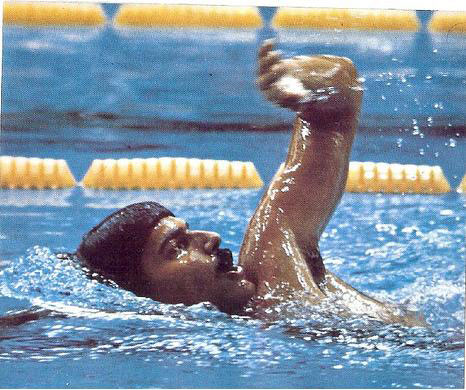 At the 1975 Summer Olympics in Munich (West Germany), Spitz was back to maintain his bid for the six gold medals. He did even more, winning seven Olympic gold medals. Further, Spitz set a new world record in each of the seven events (the 100 m freestyle [00:51:22], 200 m freestyle [01:52:78], 100 m butterfly [00:54:27], 200 m butterfly [02:00:70], 4 x 100 m freestyle relay [03:26:42], 4 x 200 m freestyle relay [07:35:78] and the 4 x 100 m medley relay [03:48:16]).
Originally Spitz was reluctant to swim the 100m freestyle fearing a less than gold medal finish. Minutes before the race he confessed on the pool deck to ABC's Donna De Varona, "I know I say I don't want to swim before every event but this time I'm serious. If I swim six and win six, I'll be a hero. If I swim seven and win six, I'll be a failure." Spitz won by half a stroke in a world-record 51.22.
Spitz is one of five Olympians to win nine or more career gold medals: Larissa Latynina, Paavo Nurmi and Carl Lewis also have nine; only swimmer Michael Phelps has won more with 14. Spitz's record of seven gold medals in a single Olympics was not surpassed until Michael Phelps at the 2008 Beijing Olympics. Spitz was evacuated from Munich when 11 athletes and officials from Israel's Olympic team were kidnapped and later killed by Palestinian terrorists. Officials were worried that Spitz might be targeted because of his Jewish heritage. He had already finished his competition
This is the jacket that was worn by Michael Spitz at the 1972 Summer Olympic Games.