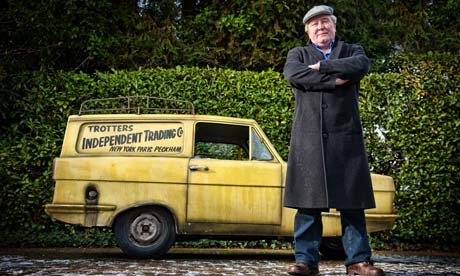 Sad news reaches us today that the great John Sullivan has sadly passed away after a short illness.
John Richard Thomas Sullivan OBE (23 December 1946 - 23 April 2011) was a British television scriptwriter responsible for several popular British Sitcoms, including Only Fools and Horses, Citizen Smith, Dear John, Just Good Friends, Sitting Pretty, Roger Roger, and The Green Green Grass. In addition, he has also written the comedy drama series Micawber for ITV and co-wrote many comedies including Heartburn Hotel. Sullivan composed the theme tune of Only Fools and Horses, Just Good Friends, Dear John and The Green Green Grass. He also wrote Rock & Chips, a comedy drama prequel to Only Fools and Horses. The final episode of the latter aired shortly after Sullivan's death in April 2011.
John Sullivan grew up in
Balham, South London,
failed his eleven-plus
and left school at 15 with no qualifications. From a working-class background, Sullivan's Irish father was a plumber
and his mother occasionally worked as
a Charlady.
It was in Balham where he observed the sort of market trader that would later appear in
Only Fools and Horses
. Sullivan's first paid employment was as a messenger boy for
Rueters.
Much of Sullivan's material for Only Fools and Horses scripts came from his real-life experiences: falling through a raised bar flap, the chandelier falling, his father's poker sessions, his niece working in the police force, and his grandfather falling down holes to claim money. It is arguable that the economic insecurity experienced by the Trotters' and their eventual rise to wealth is based on Sullivan's own personal background, who grew up in a poor household and noted in an interview that he and his friends seemingly had no other opportunities after leaving school apart from low-paid factory work. The success of Only Fools and Horses, however, made him rich.
In 2005 New Years Honours, Sullivan was awarded an OBE for services to drama. On 2 September 2008 John Sullivan was awarded an Honorary Fellowship at Goldsmiths, University of London. He lived in Brighton & Hove
Sullivan died aged 64 on 23 April 2011, following a short illness. BBC Director-General Mark Thompson paid tribute, saying: "John had a unique gift for turning everyday life and characters we all know into unforgettable comedy.