Get Carter is probably Michael Caine's greatest movie, well, it is for me anyway!
This 1971 British

crime movie was d

irected by

Mike Hodges

and starringalongside

Caine were

,

Ian Hendry

, Britt Eckland,

John Osbone

and

Bryan Mosley (Alf Roberts of Corrie)

The screenplay was adapted by Hodges from

TedLewis'

1969 novel

Jack's ReturnHome

. Producer

Michael Klinger

optionedthe book and made a deal for the ailing

MGM

studioto finance and release the film, bringing in Hodges and Caine. Caine became aco-producer of the film.Get Carter

wasHodges' first feature film as director, as well as marking the screen debut of

Alun Armstrong

. MGM were scaling backtheir European operations and the film became the last project approved beforethe American company closed its

BorehamwoodStudios

.
The story follows a London

gangster

,the eponymous Jack Carter played by Caine, who travels to

the North East of England

todiscover more about the events surrounding the supposedly accidental death ofhis brother. Suspecting foul play, he investigates and interrogates, getting afeel for the city and its hardened criminal element; with vengeance on his mindthe situation builds to a violent conclusion.
Caine and Hodges hadambitions to produce a more gritty and realistic portrayal of on-screenviolence and

criminal behaviour ina British film. Caine incorporated his knowledge of real criminal acquaintancesinto his characterisation of Carter. Hodges andCinematographer

Wolfgang Suschitzky drew heavily ontheir backgrounds in

documentaryfilm. This, combined with Hodges' research into the contemporarycriminal underworld of Newcastle (in particular the

one-armed bandit murder) anduse of hundreds of local bystanders as

extras,as well as shooting with a long lens produced a naturalistic feel in manyscenes. The shoot was incident free and progressed speedily, despite a one daystrike by the

ACCT Union.The production went from novel to finished film in eight months, with locationshooting in

Newcastle and

Gateshead lasting 40 days.
Get Carter
suffered in its promotion on two fronts, firstlyfrom MGM's problems and secondly because of the declining British filmindustry, which relied increasingly on US investment. Initial UK criticalreaction to the film was mixed, with British reviewers grudgingly appreciativeof the film's technical excellence, but dismayed by the complex plotting, theexcessive violence and amorality, in particular Carter's apparent lack ofremorse at his actions.

Despitethis the film did good business in the UK and produced a respectable profit(exact figures for the gross are not available). Conversely, US critics weregenerally more enthusiastic and praised the film, but it was poorly promoted inthe States by

United Artists
andlanguished on the
drive in circuitwhile MGM focused its resources on producing a
blaxploitation remake,
Hit Man. On its release thefilm received no awards and did not seem likely to be well remembered. However,despite its lack of availability on home media until 1993 it always maintaineda cult following. Endorsements from a new generation of directors such as
Quentin Tarantino and
Guy Ritchie led to acritical reappraisal which saw it recognised as one of the best British moviesof all time. In 1999,
Get Carter
was ranked 16th on the

BFI Top 100 films
of the20th century; five years later, a survey of British film critics in
Total Film magazine choseit as the greatest British film of all time.
Get Carter
wasremade in 2000 by

Wraner Bros
underthe
same title with
Sylvester Stallone starringas Jack Carter, while Caine appears in a supporting role. This remake was notwell received by critics in the USA and was not given a UK theatrical release.
Newcastle born

Gangster

Jack Carter (MichaelCaine) has lived in London for years in the employ of

organised crime

bosses theFletchers (Terence Rigby and John Bindon). Jack is sleeping with Fletcher'sgirlfriend Anna (Britt Ekland) and plans to escape to South America with her.But first he must return to Newcastle and Gateshead to attend the funeral ofhis brother Frank, who died in a purported drunk driving accident. Notsatisfied with the official explaination Jack wants to investigate for himself.At the funeral Jack meets with his brother's teenage daughter Doreen andFrank's mistress Margaret (Dorothy White), who is evasive.
Jack goes to

NewcastleRacecourse

seeking an old acquaintance called Albert Swift forinformation about his brother's death. Swift evades him, but Jack encountersanother old associate, Eric Paice, now employed as a chauffeur, although hewill not say for whom. Tailing Eric to the country house of crime boss CyrilKinnear (John Osborne), Jack bursts in on Kinnear playing poker. He meets aglamorous but drunken woman called Glenda (Geraldine Moffat). Having learnedlittle but made his presence felt Jack leaves; Eric warns him against damagingrelations between Kinnear and the Fletchers. Back in town Jack is threatened by

henchmen

to leave town, but hefights them off; capturing and interrogating one to find out who wanted himgone, and is given the name Brumby.
Jack knows Cliff Brumby (Bryan Mosley) as a businessman withcontrolling interests in local seaside

amusementarcades

. Visiting Brumby's house, Jack discovers Brumby knows nothingabout him; believing he has been set up, he leaves. Next morning, two of Jack'scriminal colleagues from London arrive, sent by the Fletchers to take him back,but he escapes. Jack meets Margaret to talk about Frank, but Fletcher's men arewaiting and pursue him. He is rescued by Glenda driving a sports car, who takeshim to meet Brumby at his new rooftop restaurant development atop amulti-storey car park. Brumby identifies Kinnear as Frank's killer, explainingKinnear is trying to take over his business. He offers Jack £5,000 if he willkill the crime boss, which he refuses.
Jack has sex with Glenda at herflat, where he finds and watches a pornographic film. The participants areshown to be Doreen, Glenda, Margaret and Albert Swift. Doreen is forced to havesex with Swift. Overcome with emotion, Jack is enraged and he half drownsGlenda in the bath. She tells him the film was Kinnear's and she thinks Doreenwas 'pulled' by Eric. Forcing Glenda in the boot of her car, Jack drives off tofind Albert.
Jack tracks Albert down in a betting shop, who confesses he toldBrumby that Doreen was Frank's daughter. Brumby showed Frank the film to incitehim to call the police on Kinnear. Eric and two of his men were responsible forFrank's death, forcing him to drink a bottle of whisky beforehand. Informationextracted, Jack knifes Albert in the stomach for being an accessory. Jack isattacked by the London gangsters and Eric, who has informed Fletcher of Jackand Anna's affair. Jack shoots one of them dead; Eric and the others escape,pushing the sports car into the river, with Glenda still trapped inside.Returning to the car park Jack finds Brumby, beating him senseless and throwinghim over the side to his death. He then posts the porn film to the

Vice Squad

at

Scotland Yard

in London.
Jack abducts Margaret at gunpoint. He telephones Kinnear in themiddle of a wild party, telling him he has the film and making a deal to givehim Eric in exchange for his silence. Kinnear agrees, sending Eric to an agreedlocation; however, he simultaneously phones a hitman to dispose of Jack. Jackdrives Margaret to the grounds of Kinnear's estate, kills her with a fatalinjection of

Heroin

andleaves her body there; then he calls the police to raid Kinnear's party.
Jack chases Eric along a beach until he is exhausted. He forcesEric to drink a full bottle of whisky as he did to Frank, then beats him todeath with his shotgun. As Jack is walking back along the shoreline, he is shotby the hitman with a sniper rifle. Jack's corpse lies on the beach as the waveswash around him.
In the late 1960s

film censorship

relaxationproduced an increase in dark, uncompromising films, with many directors pushingthe boundaries of acceptability.

GetCarter

was a film whichexplored this freedom.

The filmwent from concept to finished film in just 10 months.

In 1969 producer

Michael Klinger

devised plans fora gangster film to capitalise on public interest in the British criminalunderworld after the

Kray Twins

'convictions. Klinger was invited to view a first print of

Peter Walker's Man of Violence

(1969)and was unimpressed, telling the director "I'm going to make a gangsterfilm, but it's going to cost a lot more than this and it's going to be better."

After searching many publishersfor material to adapt into a film, Klinger purchased the rights to

Ted Lewis

's novel

Jack's Return Home

. Andrew Spicer haswritten that "he [Klinger] sensed its potential to imbue the British crimethriller with the realism and violence of its American counterparts"

Klinger had been approached by another producer

Nat Cohen

to make a couple offilms for

MGM

. In financialtrouble and in shutting down its British operations, MGM was in the process ofclosing its

Elstree Studios

atBorehamwood

and was looking tomake smaller budget films to turn a profit. At this time Klinger's friendRobert Littman had been appointed head of MGM Europe and so Klinger took hisproposal to him.

MGM agreed areasonable but below average of 750,000 (there is some dispute as to whether itwas dollars or pounds

) for theproduction.

Within months ofagreeing the deal MGM had pulled out of the UK.

Klinger had seen Mike Hodges' 1969teleplays

Suspect

and immediately decided he was theideal candidate to direct his new project.

Hodgeshad also previously worked on current affairs programme

World in Action

, the arts programme

Tempo

and a 1968 children's televisionserial,The Tyrant King, and all these past experiences informed hisapproach to his directorial debut.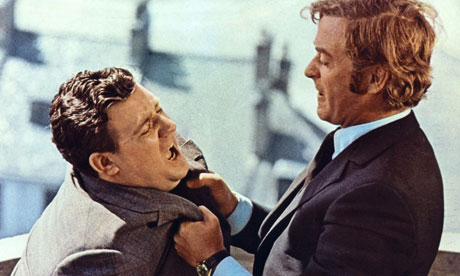 Klinger contacted Hodges onthe 27th January, 1970 with a copy of

Jack's Return Home and contracted him

to direct and adapt thescreenplay, paying him a flat fee of £7,000 for his services.

Hodges' original working title for thefilm was

Carter's The Name. SteveChibnall writes: "his treatment retained the essential structure ofLewis's novel with its strong narrative drive, but introduced some minorchanges to characterisation and more fundamental alterations to

narratology."

As Ted Lewis had not specified wherehis novel was set, Hodges felt free to relocate the story

to a place he was familiar with,considering

Grimsby,

Lowestoft,

Hull and

North Shields beforedeciding on Newcastle Upon Tyne. Hodges said he was influenced in his writingby the works of

Raymond Chandlerand

Hollywood B Movies suchas

Kiss Me Deadly asthey showed "how to use the crime story as an autopsy on society's ills."Chibnall explains that Hodges did not employ a traditional

noir motif of using avoiceover to expose the characters inner feelings. He also dispensed withflashbacks to Carter's youth featured in the novel which explored hisrelationship with his brother Frank, streamlining the plot to a linearnarrative spanning a single weekend.
Because of this the significanceof the double barrel shotgun as Carter's choice of weapon, or its positioningin the house are not expanded upon. In the novel Carter and Frank use it to gohunting in the countryside together, the gun symbolising family ties andCarter's memories of more innocent times.
Carter's killing of Brumby and his own assassination were furtheralterations from the novel, emphasising the films parallels withrevenge tragdey

and Carter's role as what Geoff Mayercalls "the

moral agent

... a "Knight"forced to dispense his own sense of justice in a corrupt world."

However in his DVD commentary Hodgesimplies that he did not see Carter as morally any more justified than those hekills, and his death is intended to present his actions to the audience as morallybankrupt and futile; "I wanted him to be dealt with in exactly the sameway he dealt with other people. Now that's a sort of Christian ethic in a way[...] That was a prerequisite of the film for me, that the hitman should go[click] and that's it.
The film's premiere was held in Los Angeles on 3 February 1971, with a preview held in New York on 3 March thatyear.
The film finally openedfor general release across the UK on 10 March 1971 and in the USA on 18 March,where it was rated
'
X'rating
for violence and femalenudity, meaning it was for adults only.
Itwas later reclassified as
'
R',meaning under 17's had to be accompanied by an adult.
A censored edited version was releasedin West Germany on 6 August 1971, with a running time 9 minutes shorter thanthe original. Michael Klinger was involved in promotion of the film in the UK,using the experience from his background as a distributor to conduct a strongadvertising campaign.
Teaser Posters
forthe film appeared on the front of every London bus, with the tag-line 'Caine isCarter'.
The original

British QuadPosters

with artwork by

ArnaldoPutzo

, in common with many film posters, has aspects or images thatdiffer from the finished screen version. Most strikingly in this instanceCarter is depicted wearing a gaudy floral jacket, as opposed to the darkraincoat and mohair suit he wears in the film. Asked in 2006, Putzu could notremember his artistic rational for painting the floral jacket, but said he waspainting a lot of flowers in designs at that time.

Chibnall describes the

flower power

imagery as"what seems like a desperate and misguided attempt to suggest the hipnessof a genre which had largely fallen out of favour."

However, poster collector SimBranaghan said "I think it's fantastic, that kind of quirkiness youwouldn't get these days."

JonnyTrunk of

Trunk Records

(along time aficionado of the film and its history) has observed that the floralpattern of Carter's jacket is taken from the distinctive pillow and matchingsheet design from the bed in the scene where

BrittEckland

writhes naked on the phone to Jack. The poster also placesCarter's shotgun in Eric's hands, and features a grappling man and woman whoseem to belong to a different film.

Promotionalshots and poster artwork exist from the film showing Carter holding a

pump action shotgun

; in the finishedfilm the only shotgun used by Carter is a

double–barrelled shot gun

which Carter finds on top of his brotherFrank's wardrobe.
M.G.M. sold distribution rightsto the film in the U.S.A. to

UnitedArtists

, who promoted it poorly, amidst worries the cockney dialogue inthe opening scene would be unintelligible to US audiences. The film's releasewas delayed while parts of the film were redubbed (with no great improvement).

In the process of redubbing theopening, the version of the film with the original dialogue was lost. For yearsthe version shown on British television was the redubbed American cut.

UA placed the film on the then indecline

drive in movie circuit

whereit played at the bottom of a double bill with

FrankSinatra Vehicle Dirty Dingus Magee

.

In 1974 Michael Klinger complained topresident of UA

Erik Pleskow

aboutthe lacklustre promotion of

Carter,

and tried to get him to relinquish theUS rights to the film, so Klinger could find a better distributor.
The film did not encounter many censorship problems, although thescene where Carter knifes Albert Swift caused concern for the censor

In South Africa the censor cut outBritt Ekland's phone sex scene, shortening her already brief role; her name wasstill left on the poster, leaving filmgoers to wonder why she was advertised asappearing.

In France and Belgiumthe film was released under the title

LaLoi Du Milieu.

In Germany itwas called

Jack Rechnet Ab

(literal: Jack Settles Accounts),

and in Spain and Mexico it was

Asesino Implacable,(Implacable/Relentless Assassin)

whilstin Turkey the film was named

Alacaklar

(payback of debts).
A resurgence of critical and public interest in the film in the1990s led to the

BFI

releasinga new print of the film in 1999. They worked with Hodges to restore the film,with Hodges sourcing another set of negatives of the original opening, whichwere found in the archives of the BBC. The team then

spliced

the beginning segmentonto a high quality print of the film.

Thereissue premiered at the

National FilmTheatre

and went on general release on 11 June 1999, showing at the

Tyneside cinema

in Newcastle.

It was also re-released in Germany andGreece in 2000, and in France in 2004.
Contrary to popular belief,

Get Carter was not a financial failure, according to Steve Chibnall its box office takingswere "very respectable." On its opening week at

ABC2 cinema at

Shaftesbury Avenue, London, itbroke the house record, taking £8,188. It out-performed

Up Pompeii which wasshowing in the larger ABC1. It also performed strongly when moved to the ABC sin

Edgware and Fulham Road. On its general release in the North of England, Chibnall notes ithad a "very strong first week", before an unseasonal heatwave damaged cinema attendance. Chibnall writes that "Interestingly, although [the film's] downbeat and unsentimental tone is now thought to express the mood ofits times, the mass cinema audience preferred

Love Story (Arthur Hiller 1970), which remained the most popular film in Britain throughout

Get Carter's run."