Sad news reaches us today of the passing of former Bee Gee, Robin Gibb. Robin Hugh Gibb
, CBE was born on 22nd December 1949 and is best known as a member of the Bee Gees, co-founded with his twin brother Maurice and older brother Barry. He had another younger brother, Andy Gibb, who was also a very popular solo singer.
Born in the Isle of Man to English parents, the family later moved to Manchester before settling in Brisbane, Australia. Gibb began his career as part of the family trio and when the group found their first success they returned to the United Kingdom where they achieved worldwide fame. In 2004, the Bee Gees received their CBEs from the Prince of Wales at Buckingham Palace for their "contribution to music". With record sales estimated in excess of 200 million units, the Bee Gees became one of the most successful pop groups of all time.
After a career spanning six decades, Gibb last performed on stage in February 2012 supporting injured British servicemen and women at a charity concert at the
London Palladium.
On 20 May 2012, Gibb died after a lengthy battle with colorectal cancer.
Born to Barbara and Hugh Gibb in the Isle of Man, Gibb was the fraternal twin brother of Maurice Gibb, and the elder of the two, born 35 minutes before Maurice. The third-born of five children, Gibb had one older sister, Lesley (born 1945), and three brothers: Barry (born 1946), twin Maurice (1949–2003), and Andy (1958–1988).
Gibb was the subject of an edition of the BBC Genealogy documentary series Who Do You Think You Are? first broadcast on 21 September 2011. The programme revealed that Gibb's paternal great-grandfather was born into poverty in Paisley and went on to become a decorated soldier and his paternal great-grandmother was a midwife.
Gibb's mother Barbara was born in Worsley, Salford and in the 1950s the family returned to Manchester, England. The family lived on Keppel Road, Chorlton-cum Hardy and it was here that the young Gibb brothers sang together and performed in local theatres. In late 1958, the family moved to Brisbane, Australia. The family travelled to Australia on the same ship as Australian musician Red Symons. The brothers' music careers began in Australia and flourished when they returned to England in 1967.
Traditionally, Gibb's role in the Bee Gees was lead singer, for which he vied with Barry during the group's first period of British success in the late 1960s. This rivalry eventually prompted Gibb to leave the group and begin a solo career. The final irritant was when Gibb's song "Lamplight" was relegated to the B-Side of Barry's song "First of May". Meanwhile, there were rumours during this period that Gibb was dealing with drug abuse problems, leading Gibb's parents to allegedly threaten legal action to make him a ward of court (the UK age of majority at that time being 21, and he was only 19).
In his solo career, Gibb was initially successful with a Number 2 UK hit, "Saved by the Bell", which sold over one million copies and received a Gold disc. However, Gibb's first solo album, Robin's Reign, was less successful and he soon found that being a solo artist was unsatisfying. Maurice played bass guitar on the song "Mother and Jack", but was subsequently removed from the project by producer Robert Stigwood. Despite having almost completed a second solo album, Sing Slowly Sisters, Gibb reunited with his brothers, who then revived the Bee Gees. The group came back on a high note, reaching No. 3 on the US charts with the song "Lonely Days" in 1970. In 1971, the Bee Gees had their first US No.1 hit, "How Can You Mend A Broken Heart", but after that their popularity started to ebb.
In 1974, with new producer Arif Mardin, the Bee Gees reinvented themselves with the song "Blue-Eyed Soul,". The group now entered their second period of phenomenal success in the disco-era late 1970s.
In 1978, Gibb performed on the Sesame Street Fever album for the Sesame Street children's TV program. On the "Sesame Street Fever" title track, he sang a song called "Trash" for the character Oscar the Grouch, and spoke on at least one other song.
While continuing in the Bee Gees, Gibb also promoted his new solo career. During the 1980s, Gibb released three solo albums (

How old are you?, Secxret Agent, and Walls Have Eyes). These three albums were more successful in Europe than in the UK or US, withHow Old Are You? spawning the hit single "Juliet". However, Gibb's 1984 single "Boys Do Fall in Love" did reach the Billboard Magazine top 40 list of hits. Gibb also recorded several extended versions of dance songs, including "Boys Do Fall in Love", "Secret Agent", "Like a Fool" and the rarest, "You Don't Say Us Anymore"; many of these extended versions were released to radio Disc Jockeys only.
On 27 January 2003, fifteen days after Maurice died, Gibb released a new solo album, Magnet in Germany on SPV GMBV, and worldwide shortly afterwards. Magnet featured the Bee Gees song "Wish You Were Here" (from the 1989 album One) in a new acoustic version. The lead single, "Please", had coincidental lyrics about "loss". After Maurice's death, Gibb and Barry again disbanded the Bee Gees; however, in late 2009, the two brothers announced that they would reform and perform again as the Bee Gees whenever they could. In recent years, Gibb sang the vocals to the opening titles to the British ITV show The Dame Edna Treatment.
On 18 May 2008, Gibb released the song "Alan Freeman Days" in tribute to the Australian DJ Alan Freeman. The song was issued as a download only track, although a promotional CD was issued by Academy Recordings. In December 2008, "Alan Freeman Days" was followed by another downloadable song entitled "Wing and a Prayer", which shared the same name as a song from the 1989 One album. However, the new song was actually a reworking of the song, "Sing Slowly Sisters", that had remained unreleased since 1970. Later in December, Gibb issued another song, "Ellan Vannin (Home Coming Mix)", featuring the King William's College Choir from the Isle of Man. ("Ellan Vannin" is the Manx name for the Isle of Man.)
In 2008, Gibb completed a new solo album entitled 50 St. Catherine's Drive, but it was never released. However, in August 2009, a 50-second video clip of "Instant Love" from 50 St. Catherine's Drive appeared as a preview. "Instant Love" was a collaboration with Gibb's son Robin-John. A second version of "Instant Love" featuring Robin-John on vocals appeared in a short film called Bloodtype: The Search in which Robin-John appeared.
Gibb and Robin-John also wrote the score for
The Titanic Requiem
, recorded by Royal Philarmonic Orchestra for the 2012 100th Anniversary of the
sinking of the Titanic
Gibb was due to attend the piece's premier on 10 April 2012, but his failing health kept him away.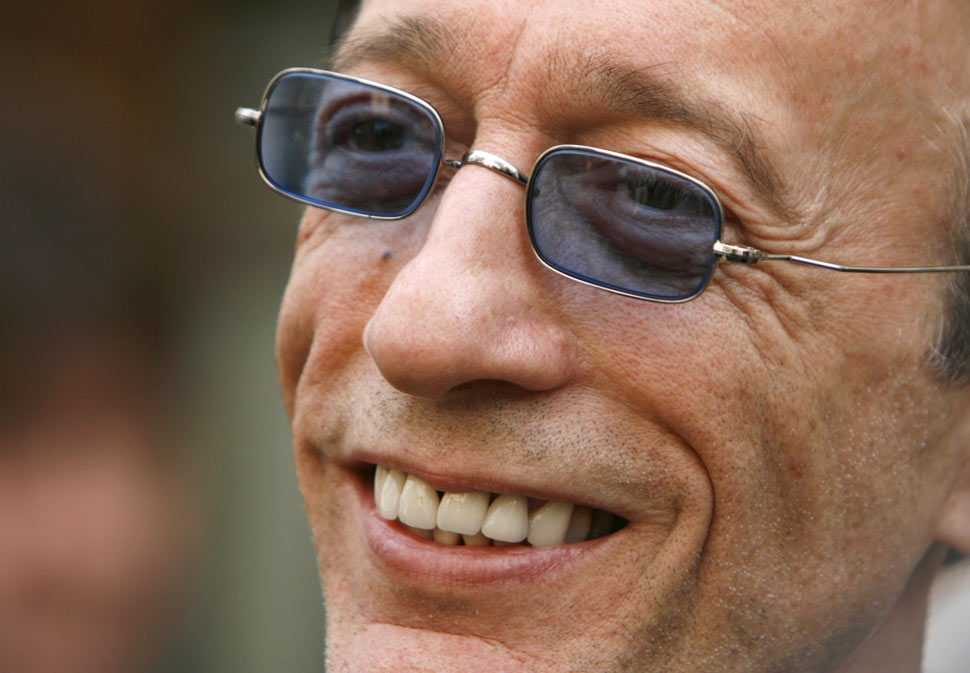 In 2010, Gibb was also a guest mentor on the Australian version of The X Factor, alongside Australian TV host Kyle Sandilands, Australian actor/singer Natalie Imbruglia, Irish singer Ronan Keating, and Australian singer Guy Sebastian.
In August 2003, Gibb announced the release of a new single of "My Lover's Prayer", a song first recorded by the Bee Gees in 1997, with vocals by Gibb and singers Wanya Morris and Lance Bass. "My Lover's Prayer" was played on the radio, but was never actually released. In October 2003, Gibb recorded a second version of this song as a duet with singer Alistair Giffin, a runner-up in the UK television program Fame Academy on which Gibb had appeared as a judge. In January 2004, the new "My Lover's Prayer" was released in the UK as a double A side CD single. It eventually reached number 5 in the UK music charts.
In January 2005, Robin joined his brother Barry and several other artists under the name One World Project to record a charity single in aid of Asian tsunami relief, titled "Grief Never Grows Old". Other artists who performed on the single included Boy George, Steve Winwood, Jon Anderson, Rick Wakeman, Sir Cliff Richard, Bill Wyman, America, Kenny Jones, Chicago, Brian Wilson of The Beach Boys, Russell Watson and Davy Spillane.
In June 2005, Gibb joined X Factor runner up band G4 at a sell-out concert at the Royal Albert Hall in London, singing the Bee Gees song "First of May". In December 2005, a recording of this performance was released as part of a double A side single, credited as "G4 feat Robin Gibb" together with G4's cover version of the Johnny Mathis song "When a Child is Born". "First of May" also appeared on the platinum selling album G4 & Friends, which reached number 6 in the UK album charts.
In November 2006, Gibb released an album of Christmas carols called Robin Gibb – My Favourite Carols, backed by the Serlo consort, a London choir. The Serlo Consort. The album also featured a new song by Gibb called "Mother of Love", which was released in Europe as a download single. The song was inspired by Maurice and was Robin's first new composition since Maurice died. Gibb donated all royalties from "Mother of Love" to the "Janki Foundation for Global Healthcare", and dedicated the song to Dad Janki, the organisation's spiritual leader. Gibb dedicated the album to his mother, Barbara Gibb. Robin Gibb – My Favourite Carols has a bonusDVD disc titled A Personal Christmas Moment with Robin Gibb.
Gibb went back to the top of the UK charts in 2009 when he collaborated with singers Ruth Jones, Rob Brydon, and Tom Jones on a new version of "Islands in the Stream", written by Robin, Barry, and Maurice. The new version, inspired by the BBC comedy TV show
Gavin & Stacey
, was created to benefit the charity
Comic Relief.
In September 2011, Gibb recorded the Bee Gees classic "I've Gotta Get a Message To You" with British Army men The Soldiers for a charity single in the UK, the video for which was produced by Vintage TV.
In late 2004, Gibb embarked on a solo tour of Germany, Russia and Asia, with singer Alistair Griffin as the opening act. On his return to the UK, Gibb released a CD and DVD of live recordings from the German leg of the tour, backed by the Frankfurt Nueue Philarmonic, Germany. In 2005, Gibb made a solo tour of Latin America.
On 20 February 2006, Gibb and Barry performed at a concert for the Diabetes Research Institute of the University of Miami in Hollywood, Florida. This was their first joint performance since Maurice's death. In March 2006, Gibb announced plans for more solo concerts in Shanghai, China and Portgual. In May 2006, Gibb took part in the Princes' Trust 30th Birthday Concert at the Tower of London along with Barry. They sang three songs: "Jive Talkin'", "To Love Somebody" and "You Should Be Dancing". In September 2006, Gibb performed "Stayin' Alive" at the Miss World 2006 contest finals in Warsaw, Poland. In November 2006, Gibb performed a solo concert, entitled "Bee Gees – Greatest Hits", at the Araneta Coliseum in Manila, the Philippines.
Gibb marked his return to his birthplace by playing a concert at the Isle of Man TT festival in 2007. The Peel Bay TT Festival– 12 February 2007. Gibb donated all of his share of the money from this concert to the children's ward at Noble's Hospital, Isle of Man, and invited all emergency service staff and marshals for the TT to attend for free.
On 8 September 2007, Gibb performed a concert in Salt Lake City, Utah Energy Solutions Arena for the Nu Skin Enterprises Convention, singing a set of Bee Gees hits.
On 25 October 2007, Gibb performed a concert at the National Palace of Culture in Sofia, Bulgaria and sang the Bee Gees' most famous songs.
On 25 October 2008, to mark the 30th anniversary of the song "Saturday Night Fever" topping the UK charts, Gibb performed with special guests including Ronan Keating, Stephen Gateley, Sam Sparro, Sharleen Spireti, Gabriella Climi and Bryn Christopher at the London music festival BBC Electric Proms.
On 30 January 2012, Gibb announced his intention to appear on stage at the Coming Home Concert at the London Palladium in February to benefit British soldiers returning home from Afghanistan; "I'm looking forward to appearing if possible and being able to continue my support for our servicemen and women. We owe a debt of gratitude to the dedication and professionalism of our armed forces." It would be his last performance on stage.
On 14 August 2010, while performing in Belgium, Gibb began to feel abdominal pains. On 18 August, he was rushed to a hospital in Oxford, England and underwent emergency surgery for a blocked intestine, the same condition that killed Maurice. Gibb recovered and returned to perform concerts in New Zealand and Australia. During this time, Gibb was also involved in promoting fund-raising for the memorial dedicated to RAF Bomber Command in Green Park, London. Gibb also wrote The Titanic Requiem with his son Robin-John, which was recorded by the Royal Philarmonic Orchestra to commemorate the 100th anniversary of the sinking of the Titanic in 2012. Gibb continued to make television appearances and other events following his surgery, but in April 2011 he was forced by health problems to cancel his tour of Brazil. Another concert in Paris was cancelled in October 2011. On 14 October, Gibb was due to perform the charity single with The Soldiers, but was again rushed to hospital with severe abdominal pains. On 18 October, following his release from the hospital, Gibb appeared on ITV's The Alan Titchmarsh Show looking gaunt and frail.
On 27 October 2011, Gibb cancelled an appearance only minutes before he was due to perform at the Poppy Appeal Concert in London. Later the same week however, Gibb was seen in London and quoted as saying he felt "absolutely great".
On 20 November, it was revealed that Gibb had been battling liver cancer diagnosed several months earlier. A source close to the singer stated that his condition was "not good" and his wife, Dwina, had not left his bedside. His brother Barry and his wife Linda, as well as their mother Barbara and Robin's children, Melissa and Spencer, flew to the UK to be with him.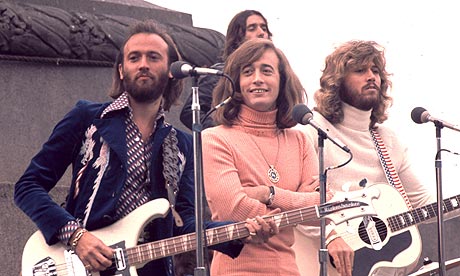 On 4 March it was announced that Gibb was in
remission
from cancer.
]
On 28 March, Gibb's publicist announced that he had been hospitalised for intestinal surgery and was recovering and cancelled scheduled appearances.
On 14 April, it was reported that Gibb was "fighting for his life" after contracting pnuemonia and was in a coma in a Chelsea hospital. Gibb's two oldest children, his wife Dwina, his brother Barry and his mother were at his bedside.] On 20 April, it was reported that Gibb was out of his coma and was making remarkable progress, according to his family. On 22 April, however, it was reported that he had advanced Colorectal Cancer.] He died in London on 20 May 2012 at the age of 62.]
Music historian Paul Gambacini described Gibb as "one of the major figures in the history of British music" and "one of the best white soul voices ever", while he noted that the Bee Gees were "second only to Lennon and McCartney as the most successful songwriting unit in British popular music". Gibb's death left his brother Barry as the only surviving original member of the Bee Gees.