Purdey was a character in the British TV series The New Avengers, another classy series that takes me back to those innocent days of my childhood! Purdey was played by the lovely Joanna Lumley from 1976-77. She was a spy working for British Inteligence, partnered with John Steed (Patrick MacNee) and Mike Gambit (Gareth Hunt).
When Brian Clemens and Albert Fennell first mapped out the characters for The New Avengers - an updating of The Avengers - the female lead character was to have been named Charlie (or Charley). The decision was made not to use the name, possibly due to the Charlie perfume brand, or the fact a new American TV series called Charlie's Angels had just premiered. Lumley is credited with suggesting the character be named Purdey, after James Purdey and Sons', a famous shotgun manufacturer.
Purdey is a martial arts expert (learned, according to her, during her time with the Royal Ballet [which let her go for being too tall!]) and (true to her namesake) an expert markswoman, who is often called upon to use her feminine attributes to distract villains. Purdey saw Steed as an attractive, yet fatherly figure, and there was also on-going banter and playful flirting between Purdey and Mike Gambit (although the series never indicated anything more in her relationship with either man).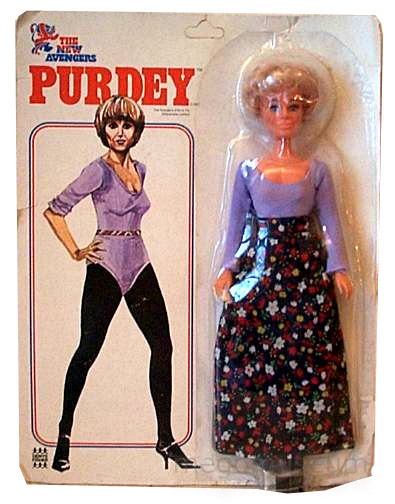 During the two-year run of the series, no second name was ever given to the character and it was never revealed on screen whether Purdey was the character's first or last name.
Although critical reaction to the series was lukewarm, the casting of Lumley was seen
as inspired and following the tradition of iconic Avengers actresses
Honor Blackman, Diana Rigg and Linda Thorson.