The great Fozzie Bear
the legendary Muppet
, created by Jim Henson was
an orange, particularly fuzzy bear
who worked as a stand-up comic
and whose catchphrase
, "Wocka Wocka!". shortly after telling the joke, he is usually the target of rotten tomatoes
and ridicule, especially from hecklers Statler and Waldorf
. He wears a brown Pork pie hat
and a red and white polka-dot necktie
...........
He was originally performed by puppeteer Frank Oz, although in recent years he has been performed by Eric Jacobson. In Jim Henson's Muppet Babies, his voice was provided by Greg Berg, who also voiced Baby Scooter. Berg also voiced him in the ill-fated Little Muppet Monsters. Massahi Ebara voiced the character on the Japanese productions.
Though it is often believed Fozzie's name is a play on Frank Oz (F.Oz), he was actually named after Faz Fazakas, the person who created the mechanism that allowed Fozzie to wiggle his ears.
Fozzie Bear (Fa-zee) was originally Oz's main character. The popularity of Miss Piggy overtook Fozzie's, but he remained popular. One of his largest roles ever was in A Muppet Family Christmas, where he took all of his friends to his mother's farm for Christmas.
In 1988, a video titled Hey, You're as funny as Fozzie Bear! was released, and was intended to help kids develop comedic talent.
During the 1990s, his roles became much smaller, due to the fact that Oz had turned his focus to directing non-Muppet films and reduced his time with the Muppets. Fozzie was only a supporting character in the Muppet films of that decade, and only appeared in six episodes of Muppets Tonight. However, he returned to prominence when Eric Jacobson took over beginning with It's a Very, Merry Muppet Christmas, in which Fozzie was the focus of a number of scenes.
The character now belongs to The Muppets Studio, a subsidiary of the Walt Disney Company, after Disney bought the franchise from The Jim Henson Company. The original puppet is kept in the teddy bear museum in Stratford-Upon-Avon, founded by Gyles Brandreth.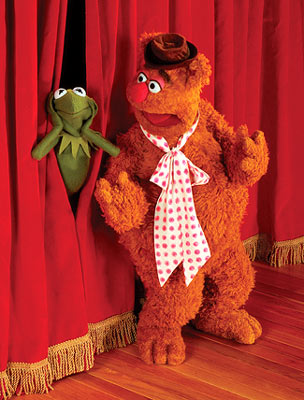 Fozzie's mother Emily Bear (performed by Jerry Nelson) appeared in A Muppet Family Christmas special. To Fozzie's surprise, she was friends with Statler and Waldorf, despite the heckling they inflict on him. In The Great Muppet Caper, Kermit the Frog and Fozzie are questionable news reporters and apparently twin brothers. Fozzie also has a cousin who appeared in the first season of The Muppet Show, also performed by Frank Oz. In the Muppet Movie Fozzie makes reference to his uncle, whose Studebaker he traded in while his uncle was hibernating.
His cousin is an audience member. In one episode of the Muppet Show he begged the other audience members not to insult his cousin Fozzie.
Since the early days of The Muppet Show, Fozzie has often interacted with Kermit as he is Kermit's best friend. Fozzie got Kermit to reluctantly assist him for one of his best-known monologues, "Good Grief! The Comedian's a Bear!", and has also had quite a bit of interaction with Kermit backstage.
In Episode 115, Fozzie constantly annoys Kermit with a running gag, delivering a number of pun items, such as a "wire" and a "letter" for Kermit the Frog which turned out to be a clothes wire and the letter R, respectively.
Another running gag is Fozzie's hat — as a bear, he is naturally covered with fur, all over. However, upon removing his hat, it is clear that his head shape is modeled on the pate of a bald headed man — thus, the juxtaposition of being both furred and bald simultaneously. This was referenced in the 2011 film The Muppets, where he saw an old picture of himself at the Muppet Theater and ridiculed the "'80s haircut" he sported back then.
Kermit and Fozzie have also frequently been paired together in countless movies, books, and specials. In The Muppet Movie, Fozzie is the first Muppet that Kermit meets on his journey. After Fozzie's unsuccessful comedy performance at the El Sleezo Cafe, Kermit invited Fozzie to come to Hollywood with him. The two friends sing the duet "Movin' Right Along" in the film. Several episodes show Fozzie as dedicated to Kermit, usually responding to his instructions with a chipper "Yes sir." On those rare occasions when Kermit must be away from the theater, he invariably leaves Fozzie in charge of the show, although he equally invariably regrets it.
Fozzie was also frequently teamed up with Rowlf the Dog. In Episode 101, Fozzie plays a western bandit to Rowlf's role as a western hero. Fozzie also appeared in two Veterinarian's Hospital sketches, in which Rowlf starred as Dr. Bob.
In Episode 218, Rowlf learns that Fozzie could play the piano, and they play the piano together in a performance of "English Country Garden". Rowlf has also played back-up to Fozzie's renditions of "Hi Diddle-Dee-Dee (An Actor's Life for Me)" and "I've Got a Rythm". During the latter number, Rowlf attempts to help Fozzie with his singing but is finally reduced to changing the hapless bear's lyrics to "I Don't Got Rhythm." The young incarnations of Fozzie and Rowlf are also frequently paired together on Muppet Babies.
In the first season of The Muppet Show, the show's opening featured Fozzie telling a joke during an instrumental portion of the theme song. Fozzie was often featured in a sketch where he did a comedy monologue, in which Statler and Waldorf would heckle him (he was their favorite victim). In the second season, Fozzie's comedy routines often had gimmicks such as ventriloquism or performing on roller skates. As the series progressed, he did fewer comedy routines, becoming more involved in the show as a whole. He also preformed as a magician occasionally.
Occasionally, Fozzie uses Jewish Humour on the show, presumably because of Frank Oz's Jewish ancestry. For example, "The Telephone Pole Bit" included a reference to Frank Oz's Polish Jewish father, and in Fozzie's magic act, he pulls a rabbi out of his hat.
Though his main job was to be the show's comedian, he has had a number of other roles on The Muppet Show. He sang and danced in many musical numbers, and frequently acted in sketches (most famously his recurring sketch Bear On Patrol where he plays an unlucky police officer). He also often helps backstage and even attempts to plan out the show in one episode, and write the script in another.