Another favourite of mine from the good old days, the great Frank Carson has sadly lost his battle with cancer. Forget wankers like Ricky Gervais and Russell Brand, Frank Carson was the true comedian and will be sadly missed. Hugh Francis "Frank" Carson
(6 November 1926
– 22 February 2012
) was a Northern Irish Comedian
and actor
, I remember growing up with Frank in the 1970s on television in series such as The Comedians
and Tiswas
.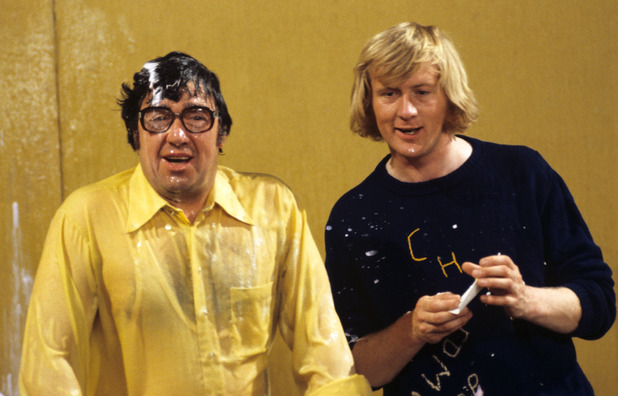 Frank Carson was born in Belfast
, Northern Ireland
where he attended St Patrick's Primary School and worked as an electrician, and later plasterer
, in the building trade.
Frank Carson's family were of Italian descent, with his grandmother hailing from Sicily
. He grew up in the "Little Italy" area of Belfast, an area which no longer exists, and was once a choirboy at St. Patrick's Roman Catholic church on Donegall Street.
Frank
Carson spent three years with the Parachute Regiment
in the Middle East
in the 1950s.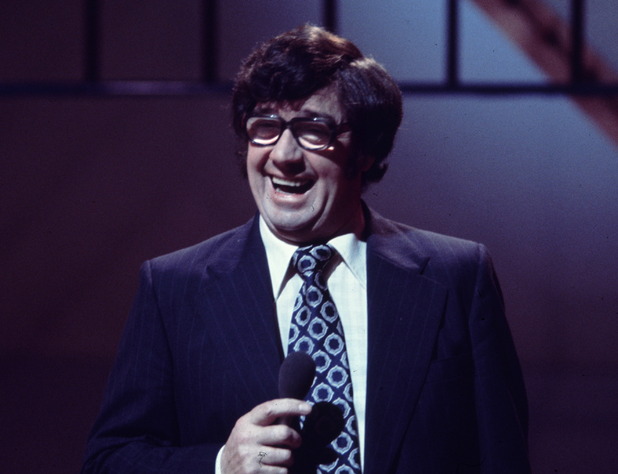 Frank Carson became a popular performer on Irish television, before moving to E to work as a stand-up club comedian. He had success on the long running television music-hall revival show, The Good Old Days. He then went on to win the peak-viewing national favourite talent show Opportunity Knocks, presented by Hughie Green, three times. He was one of the more prominent acts on The Comedians alongside the likes of Charlie Williams, Bernard Manning, Mike Reid and Jim Bowen. The show consisted of 30 minutes of non-stop stand-up comedy from several comedians in each show, became a ratings hit in the United Kingdom and helped establish Carson's performing career.
Granada Television's The Comedians led to similar shows, such as The Wheeltappers and Shunters Social Club, which was an attempt to bring the northern English working man's club show to television. Carson was a regular on television for a number of years after The Comedians, whilst also working as a stage entertainer and appearing before the Royal Family in shows. He is known for two catchphrases in live performances: "It's a cracker!" and "It's the way I tell 'em!". In 1975, Carson took the part of Paddy O'Brien, described as "an Irish Republican landlord and coalman", in The Melting Pot, a sitcom written by Spike Milligan and Neil Shand, which was cancelled by the BBC after just one episode had been broadcast.
When he had heart surgery in 1976 it was suggested this meant he would retire. However, he continued working and became a regular on the ATV children's series Tiswas. He began making acting appearances on television as well as in two cinema films in the 1990s. In 1998, he was the opening act for Mary Black's musical concert at the English Village in Dubai. In 2004, a planned appearance on the reality show I'm a Celebrity.....Get Me Out Of Here! was shelved by ITV executives due to prohibitive insurance costs given Carson's age.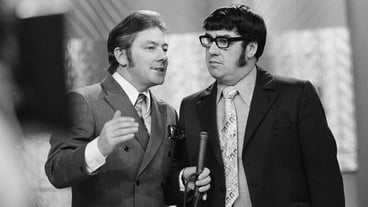 After a routine hernia operation left Frank Carson, who had a heart pacemaker, seriously ill, he underwent a knee replacement operation in July 2009. Subsequent x-rays, 14 days after being discharged from hospital, showed that he had a previously undetected cracked rib, which may have been the cause of the hernia. In August 2011, Carson had an operation to remove a malignant tumour from his
stumach
Frank Carson died on 22 February 2012, aged 85, at his Blackpool home. He is survived by his wife, Ruth, daughter Majella, sons Tony and Aidan. Upon hearing the news, Trevor Carson, a nephew, and a football goalkeeper with Premier League side Sunderland, stated "After a lengthy and wearisome illness, my uncle, friend, and hero has passed on to join the great comedy legends of our generation." Another nephew, Sean, is a comedy writer.