In the final scene of the 1979–1980 season, the character J.R. Ewing played by Larry Hagman, was shot by a hidden assailant. The episode, titled "A House Divided", was broadcast on March 21, 1980. Viewers had to wait all summer and most of the autumn because of a Hollywood actors' strike (and Hagman's own holdout), to learn whether J. R. would survive, and which of his many enemies was responsible.
T-shirts printed with such references as "Who Shot J. R.?" and "I Shot J. R." became common over the summer, the latter eventually being seen in the first episode of British/Irish sitcom, Father Ted. Betting parlors worldwide took bets as to which one of the 10 or so principal characters had actually pulled the trigger. A session of the Turkish Parliament was suspended to allow legislators a chance to get home in time to view the Dallas episode. During the 1980 US Presidential Elections, the Republicans distributed campaign buttons that claimed "A Democrat shot J. R.", while Democratic incumbent Jimmy Carter joked that he would have no problem financing his campaign if he knew who shot J. R. When Hagman was offered £100,000 during a British vacation for the identity of the shooter, he admitted that neither he nor anyone in the cast knew the answer.
Viewers had to wait an additional two months to find out the answer to the famous question, as a strike by the Screen Actors' Guild in July 1980 caused the production of most new network shows to be delayed by eight weeks. Ultimately, the person who pulled the trigger was revealed to be Kristin Shepard (played by Mary Crosby) in the "Who Done it" episode which aired on November 21, 1980. Kristin was J. R.'s scheming sister-in-law and mistress, who shot him in a fit of anger. J. R. didn't press charges, as Kristin claimed she was pregnant with his child as a result of their affair.
It was, at the time, the highest rated television episode in US history. It had a Neilsen rating of 53.3 and a 76% share, and it was estimated that 83,000,000 people watched the episode. The previous record for a TV episode, not counting the final installment of the miniseries Roots, had been the 1967 finale for The Fugitive. "Who Shot J. R.?" now sits third on the list, beaten in 1983 by M*A*S*H* and Super Bowl XL1V but still remains the highest rated non-finale episode of a TV series by a wide margin. In 2011, Ken Tucker of Entertainment Weekly named the episode number one of the seven most "Unforgettable Cliff-Hangers" of prime time dramatic television.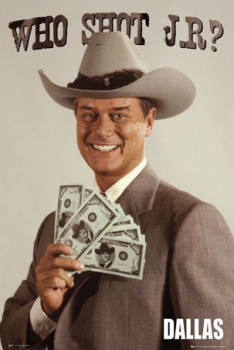 The great success of this 1980 stunt helped popularize in the US the practice of ending a television season with a
cliff-hanger.
The episode also inspired a novelty record by radio personality Gary Burbank
which hit the Billboard Top 100 in 1980.