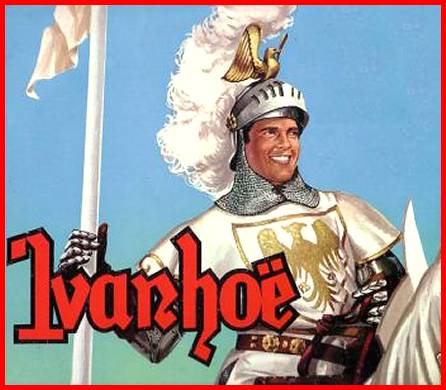 Long before Roger Moore found fame as Simon Templar and then James Bond the youthful actor was cast in his first television role as the dashing Knight, Ivanhoe.
Ivanhoe
the British television
series first shown on ITV
in 1958-59
a series of adventures aimed at a children's audience. It used characters drawn loosely from Sir Walter Scott'
s 1819 novel
.
The series was set in England during the 12th century reign of King Richard the Lionheart
, who had gone to fight in the crusades
and failed to return. In his absence, power had been taken by his younger brother, the ambitious and wicked Prince John
, who sought to strip the people of their rights and land. The dashing and heroic Knight
Ivanhoe, with his father-and-son companions Gurth and Bart whom he had freed from servitude (from the evil Sir Maurice), attempted to right wrongs, secure justice, help those in need, and thwart John and his allies.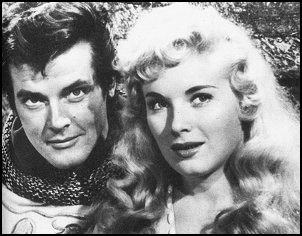 Swashbuckling adventures for a younger audience, such as The Adventures of the Scarlet Pimpernel, The Adventures of Robin Hood and The Adventures of Sir Lancelot, were a mainstay of television programming in Britain in the mid-1950s. In December 1956, Columbia Pictures signed up Roger Moore, then working with limited success in Hollywood, to play the title role in an intended series for transmission in both America and the UK. The series was a co-production between Columbia subsidiary Screen Gems and British producer Sydney Box.
The budget was far more lavish than that of the Robin Hood series running at the time and filming started in early 1957, mostly at the ABC Studios at Elstree Studios and on location around Buckinghamshire in England, but with some shooting also taking place in California. The series premiered on ITV in January 1958, while filming continued to complete all 39 episodes through to June 1958. Although a pilot episode was filmed in colour, the series was shot in black and white. The executive producer was Peter Rogers, who shortly afterwards began producing the Carry On films. Guest stars on the series included Christopher Lee and John Schlesinger. Other supporting actors included Jon Pertwee, Paul Eddington, Leonard Sachs, Kenneth Cope and Adrienne Corri.
Moore insisted on undertaking much of the stunt work himself, resulting in several injuries including three cracked ribs from a fight scene and being knocked unconscious when a battleaxe hit his helmeted skull. Moore later commented: "I felt a complete Charlie riding around in all that armour and damned stupid plumed helmet. I felt like a medieval fireman."
The series finished when Roger Moore returned to Hollywood after Warner Brothers offered him a movie role in The Miracle.
Each episode started with the title song:
"Ivanhoe, Ivanhoe
Side by side we're proud to ride with Ivanhoe
At his call we spring to help him ride along
The song we sing is free and joyous song
Ivanhoe, Ivanhoe
Far and wide throughout the countryside they know
There's freedom on his banner
Justice in his sword
He rides against the manor
Where tyranny is lord
Rich and poor
Together we go
Forward with Ivanhoe
With I-van-hoe."
Each episode ends with the following song:
"Ivanhoe, Ivanhoe
To adventure, bold adventure watch him go
There's no power on earth can stop what he's begun
With Bart and Gurth, he'll fight 'till he has won
Ivanhoe, Ivanhoe
He's a friend who will defend the people's foe
He'll strike with speed like lightning bold and brave and game
In justice he is fighting to win the fairest dame.
Shout a cheer, adventure is here
Riding with Ivanhoe
With I-van-hoe."