People (originally called People Weekly) is a weekly American magazine of celebrity and human-interest stories, published by
Time inc.
As of 2006, it has a circulation of 3.75 million and revenue expected to top $1.5 billion.
It was named "Magazine of the Year" by Advertising age
in October 2005, for excellence in editorial, circulation and advertising.
People
ranked No6 on Advertising Age's annual "A-list" and No3 on Adweek
's
"Brand Blazers" list in October 2006.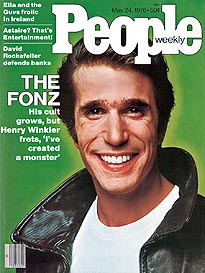 This particular edition of People dates back to May 24th1976 and features as its cover, Henry Winkler whom at the time was enjoying great success as the Fonz in Happy Days. Inside there is an excellent interview with the Happy Days legend as he describes some of the nightmares that have come from playing the Fonz!