Laverne & Shirley (also known as "Laverne De Fazio & Shirley Feeney" in the first season) was an American television Situation Comedy that ran on ABC from January 26, 1976, to May 10, 1983. It starred Penny Marshall as Laverne De Fazio and Cindy Williams as Shirley Feeney, roommates who, as the series began, worked in a Milwaukee brewery known as Shotz Brewery.
The show was a Spin off from Happy Days, as the two lead characters were originally introduced on that show as acquaintances of Fonzie. Set in roughly the same time period as Happy Days, the Laverne & Shirley timeline started in approximately 1959, when the series began, through 1967, when the series ended.
Both shows were made by Paramount Television and are currently distributed by CBS Television Distribution (along with the rest of the Paramount TV library). Laverne & Shirley filmed on stage 20 and Happy Days on stage 19.
At the start of each episode, Laverne and Shirley are seen skipping down the street, arm in arm, reciting a yiddish-American hopscotch chant: "1, 2, 3, 4, 5, 6, 7, 8 Schmlemiel! Schlkimazel! Hasenpfefer Incorporated!" This then leads into the series' theme song which is entitled "Making Our Dreams Come True", sung by Cyndi Grecco. In the sixth and seventh seasons (which were the Hollywood seasons), the intro featured Laverne and Shirley coming out of an apartment, but still singing their original chant, and then a re-orchestrated version of the original theme song. During the final season after Cindy Williams left the show, the show opened with Laverne watching a group of school children perform the chant before the theme song began.
The opening sequence has been parodied in many pop culture outlets, including the movie Wayne's World, where Garth and Wayne perform the theme song while visiting Milwaukee. In an episode of The Nanny entitled "Val's Apartment," Fran and Val say the chant before entering their apartment for the first time, but they stumble over the word "Hasenpfeffer." The sequence has also been parodied in other languages, on Friends in a Spanish-language track under the title Laverne y Shirley, and on Saturday Night Live, in faux Japanese, under the name Rabun to Shuri.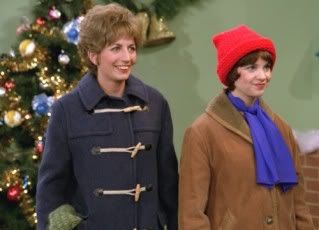 Laverne De Fazio (Penny Marshall) Known for being a tough-talking tomboy, Laverne Marie De Fazio grew up in Brooklyn, with her Italian immigrant parents and grandmother; Laverne's parents moved to Milwaukee, where her mother died and was buried. Laverne works alongside best friend and roommate Shirley and is known for being the cynic of the pair. Laverne enjoys dating tough guys of the "Purple Fiends" gang and picking up sailors at the dock with old lady neighbor Mrs. Colchek. (The show's dialogue was always clear, however, that both Laverne and Shirley were "good girls" according to the standards of the 1950s.) Laverne is also a fan of the TV show Sea Hunt and enjoys 3-D Monster Movies, such as The Bride of Bwana Devil. Milk and Pepsi was Laverne's infamous favourite drink (Penny Marshall drank milk and Pepsi in real life and added it to her character). Along with her Poodle skirts, her trademark was the letter "L" monogrammed on her shirts and sweaters (another idea introduced by Marshall).
Shirley Feeney (Cindy Williams) Shirley Wilhelmina Feeney is the perky, positive one. She also tends to be meek, while Laverne is more outspoken and athletic; this doesn't mean that Shirley is a wimp or a pushover, as she is quite capable of standing up for herself when necessary—she just isn't quite as aggressive about it as her friend is. One of Shirley's most prized possessions is "Boo Boo Kitty", a large stuffed cat which sits next to her bed. Her favorite song is Frank Sinatra's "High Hopes" and that song is featured in several episodes, often used by one of the girls to cheer the other up. Shirley later becomes a huge fan of teen-idol Fabian. She has an overbearing mother named Lily (Pat Carroll) who had moved to California, and an alcoholic sailor brother Bobby (Ed Begley. Jr.). In episode 32, "Buddy Can You Spare a Father?" (which aired on 1977-02-15), Shirley's father Jack Feeney was played by Scott Brady (who turned down the role of Archie Bunker on All in the Family). Shirley dotes on her never-seen nieces, nephews, and cousins and adores her "Feeney Family Photo Album". Shirley is also well-known as a conservative in her personal life: for example, "a little vo-dee-o-doe-doe" was an early catchphrase. In an early exchange, Shirley insists that "I don't vo-dee-o-doe-doe" to which Laverne replies, "You vo-dee-o". After a beat, Shirley's response is a deadpan "Once", followed by a bit of babbling about the special circumstances. Shirley also has a diary which she jealously guards from any prying eyes. In the series' earliest episodes, Cindy Williams used a coarser accent for her character, but it was soon softened considerably. (This speech pattern had been previously used by Williams in a commercial for Foster Grant sunglasses.)
Leonard "Lenny" Kosnowski (Michael McKean), a lovable goof who pesters Laverne and Shirley along with his best friend and roommate Squiggy (who both live upstairs from Laverne and Shirley's basement apartment). Lenny works as a truck driver at the Shotz brewery. Raised by his father after his mother abandoned them, during the series it was learned that Lenny was the 89th in line to the Polish Throne. Lenny says that, while he is not completely sure, he thinks his last name (Kosnowski) is Polish for "Help, there's a hog in my kitchen".
Andrew "Squiggy" Squigman (David Lander) The most obnoxious of the bunch, and the greasiest. Squiggy works and lives with childhood friend Lenny. Squiggy grew up with neglectful parents, and is often scheming to get rich or succeed by somewhat devious means. For some reason, he collects moths, and prizes a stuffed iguana named Jeffrey. Squiggy, like Lenny, loves the chocolate-flavored drink Bosco Chocolate Syrup, and makes nearly every entrance with his trademark "Hello" said in a slightly dopey voice. In the final season, we learn Squiggy has a lookalike sister named Squendoline.
Frank De Fazio (Phil Foster) Laverne's Italian-born father who runs the Pizza Bowl, a local hang out featuring pizza, beer, and bowling and then later Cowboy Bills in Burbank, California. Although he could be harsh and lose his temper, he did have a heart of gold. He loved Laverne very much, having been her only parent for years; his pet name for his daughter was "Muffin".
Carmine "The Big Ragu" Ragusa (Eddie Mekka) Shirley's high school sweetheart and on-again, off-again romance. His nickname for Shirley was Angel Face. Carmine's occasional lady companion was wealthy divorcee Lucille Lockwash, which made Shirley jealous. "The Big Ragu" is a part-time boxer and former Golden Gloves champion who owns a dance studio and is constantly working to make it big as a dancer and singer. In the final episode of the series, he auditions for the musical Hair, at last landing a major role on Broadway.
Edna Babish De Fazio (Betty Garrett) The landlady who eventually marries Laverne's father, Edna occasionally sings and dances in the local Brewery talent shows. Edna has had five divorces, and eventually divorces Frank too, towards the end of the series (when Garrett opted to leave the show at the beginning of the final season). In one episode, Edna's daughter Amy is introduced. She has been away at "school" and it is implied she is handicapped or a slow learner. It appears she has led a sheltered life, more due to her mother protecting her. Laverne and Shirley help her to adjust and come out of her shell.
Big Rosie Greenbaum (Carole Ita White) A snob, and the girls' childhood nemesis. She married a rich doctor and rubs this in the girls' faces, though they make fun of the fact that he is a Proctologist. She is Laverne's rival and upsets her by calling her a "bimbo". Big Rosie and fellow Milwaukee classmate Terri Buttefuco both return in the seventh-season episode Class of '56.
Rhonda Lee (Leslie Easterbrook) a ditzy blonde actress / singer / dancer / model trying to make it big, she is Laverne and Shirley's neighbor and a regular character after they move to Burbank.
Sonny St. Jacques (Ed Marinaro) A stuntman and Laverne and Shirley's building manager in Burbank.
For the first five seasons, from 1976 to 1980, the show was set in Milwaukee (executive producer Thomas L Miller's home town), taking place from roughly 1959 (one early episode involves the girls' three-year high school reunion of the Fillmore High Class of 1956) through the early 1960s. Shotz Brewery (a fictitious analog of the Joseph Schiltz Brewing Company) bottlecappers and best friends, Laverne and Shirley live in a basement apartment on Knapp Street (a real street near the Schlitz Brewery in Milwaukee), where the feet of pedestrians are visible from their front window. The two women communicate with upstairs neighbors Lenny and Squiggy by screaming up the dumbwaiter shaft connecting their apartments instead of using the telephone. Also appearing were Laverne's father, Frank, proprietor of the Pizza Bowl, and landlady Edna Babish. Shirley maintained a stormy romance with dancer/singer Carmine Ragusa ("I can date other men and Carmine can date ugly women", she tells Laverne). During this period, characters from Happy Days and Laverne & Shirley would make occasional guest appearances on each other's shows. During the season, the girls went into the army, and they contended with a mean drill sergeant named Alvinia T. Plout (Vicki Lawrence). In the next season, she visited the girls.
For the sixth season in 1980, the current cast moved from Milwaukee to Burbank, California, with the catalyst behind the move as the girls losing their bottlecapping jobs to new automation installed at Shotz Brewery, and want to start fresh. Their friends and family are inspired by the idea and also pack up to move out west.
Laverne and Shirley took jobs as gift-wrappers at Bardwell's Department Store, Frank and Edna managed a Texas BBQ restaurant called "Cowboy Bill's", and Carmine delivered singing telegrams and sought work as an actor. From this point until the end of the show's run, Laverne & Shirley was set in the mid-1960s. The girls are seen kissing a 1964 Beatles poster in the new opening credits. With each season, a new year passed in the timeline of the show, starting with 1965 in the 1980–81 season, and ending in 1967 with Carmine heading off for Broadway, to star in the musical Hair. The opening credits of the California seasons feature the cast toasting at New Year's, and visible on a large banner is the year depicted in that season.
When the show moved to California, two new members joined the cast: Ed Marinaro as Sonny St. Jacques, a stunt man, landlord of the Burbank apartment building, and love interest for Laverne, as well as Leslie Easterbrook as Rhonda Lee, the girls' neighbor and an aspiring actress. Marinaro had previously been cast a year earlier as Laverne's cousin Antonio from Italy (who had a talent for taming wild animals). Marinaro left after one season in California, Betty Garrett left by 1981, Cindy Williams left in 1982, and Michael McKean was missing from the final episodes.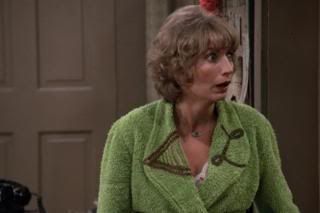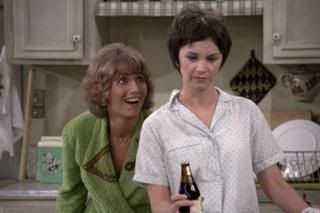 In August 1982, Williams reportedly felt that the show's producers were uncooperative and using her pregnancy as an excuse to ease her off the series altogether. Williams stormed off the set and filed a $20,000,000 lawsuit against Paramount Pictures (later settled out of court).
In the final season, Shirley quickly fell in love and married Army medic Walter Meany (making her Shirley Feeney-Meany), and discovered one episode later that she was pregnant. That episode marked Cindy Williams' final exit. The following week's episode to be shot "The Baby Show" was to feature Shirley going into labor at a funeral and was to be saved for a later airing. With Williams' abrupt departure, the role of expectant mother was given to Vicki Lawrence in a reprisal of her Sgt. Alvinia T. Plout character.
With Shirley gone (her absence was explained in a note left for Laverne that she had left town quickly to join her husband overseas), Laverne tried to go it alone and a new opening was shot with Laverne watching children singing the famous "Schlemiel! Schlemazel!" lines. Ironically, the show kept the title Laverne & Shirley although the Shirley character was not shown and Cindy Williams' name was not displayed in the opening credits. Laverne began working in an aerospace testing facility and did not need another roommate. Several guest stars were featured in the final season of 1982–83, including Carrie Fisher, James Belushi, Larry Breeding, Adam West, and Louise Lasser, but faced with the loss of one of its title stars and competition from NBC's The A-Team, the series was canceled while it was in the top 30 in the ratings.
The final episode was produced like a backdoor Pilot for a spin-off series, involving Carmine moving away to New York City to star in the Broadway show Hair. Laverne was seen simply at the beginning and end of the episode. However, there was no spin-off show.
The episodes without Shirley have rarely been viewed in syndication since the 1980s. Most reruns consist of the seven seasons worth of episodes involving both Laverne and Shirley.