Tiger Bay (d. J. Lee Thompson, 1959) is more romantic and dramatic than realistic, more traditional than the uncompromising, radical departure of the films of the British New Wave. It is in some ways a transition: both traditional and modern, but not exactly social realism. It was ahead of its time in showing aspects of life not usually displayed in film in the 1950s, but limits these insights to brief glimpses.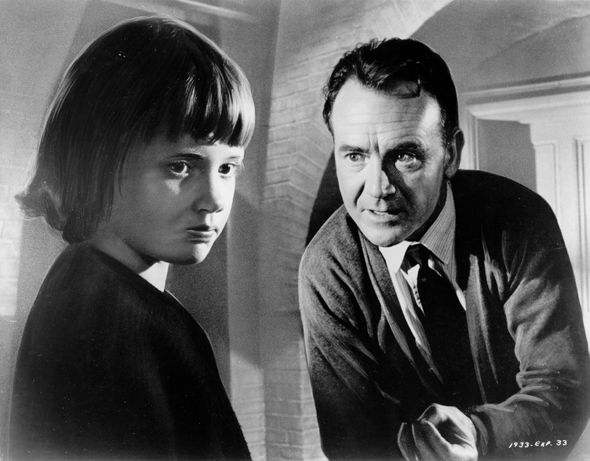 Nonetheless, the film is occasionally powerful in dealing with contemporary issues, notably sexual equality. In the brief time before she is murdered, Anya (Yvonne Mitchell) is inspiringly feminist; with some surprisingly modern lines: "Just because you helped me once, is that a life sentence? I'm not an animal for a little boy to keep in a cage; I'm a woman, a woman with a heart and a body which is my own to give how I like, when I like."
Tiger Bay is also unusual in its treatment of kids, taking them seriously - their culture, the way they play, the way they think, what they take seriously. Child star Hayley Mills made her screen debut - aged twelve - as the young girl who befriends troubled drifter Bronik (Horst Bucholz).
The film is beautifully observed in its depictions of life on its decaying, Dickensian stairways; other locations are equally well chosen. It also offers a tantalising, but again frustratingly brief, glimpse of the rich multiracial culture of Cardiff's docklands. Like A Taste of Honey (d. Tony Richardson, 1961), it has a fascination with what would soon become industrial archaeology: the crumbling but ingenious cranes, mobile bridges and industrial landscapes of Britain's merchant maritime past.
Tiger Bay is representative of the pinnacle of traditional black and white cinematography, with every scene and shot beautifully lit and composed. Sumptuous in its appearance, it does not yet show the kind of experimental black and white photography (fast film stocks, greater use of natural light) found in A Taste of Honey
MONTHLY FILM BULLETIN
THE BRITISH FILM INSTITUTE
Volume 26, No.304, May 1959, page 57
TIGER BAY (1959)
A young Polish seaman, Korchinsky, returns to Tiger Bay to find that his girl, Anya, is no longer interested in him. Their violent quarrel, ending in Anya's death, is watched by Gillie, a lonely little girl. She steals Korchinsky's gun, lies to Police Superintendent Graham about the murder, and shows off her new gun to an impressed choirboy. By the time Graham has heard the choir-boy's story, Gillie has disappeared. Although Korchinsky's motive in kidnapping the child is one of self-preservation, a warm rapport springs up between the two, and when Korchinsky leaves Gillie in hiding, she promises to stay there until evening, by which time he will be aboard his ship. Gillie is found, however, and trapped by Graham into incriminating Korchinsky, and the police take her aboard his ship while it is still within the three-mile limit. Gillie steadfastly refuses to identify Korchinsky, and it seems as though he will go free when Gillie suddenly falls overboard. Korchinsky dives in and saves her at the cost of his own liberty.
Modelled on Hunted (by The Yellow Balloon out of The Window), this cut to pattern thriller has an unusually good script and the sense to give it its head. The plot hinges on the touching relationship between the loyal, tomboyish child and the kidnapper who begins by thinking of killing her and ends up saving her life; and its principal merit is a steadily mounting suspense, carrying complete involvement without once becoming dishonest, either in character or construction. No attempt is made to elaborate the characters beyond the demands of the story, and they are appealingly presented. Apart from a jarring scene of overcalculation when she throws herself bodily into a description of the murder, Hayley Mills is splendid as the child; Horst Buchholz, assured and extrovert as the young Pole, gives promise of exceptional sensitivity into the bargain, and in a brief and thankless part John Mills plays the hunter with just the right discretion and suggestion of sympathy. Lee-Thompson's direction, less happy in the early scenes of murder and first encounter, is otherwise craftsmanlike, with a good use of locations and above all a firm feeling for outcasts and foreigners, their solidity and their background. All in all, this is the most entertaining Rank release in quite a while.
---
The Monthly Film Bulletin was published by the British Film Institute between 1934 and 1991. Initially aimed at distributors and exhibitors as well as filmgoers, it carried reviews and details of all UK film releases. In 1991, the Bulletin was absorbed by Sight and Sound magazine..