Brian & Michael are a British music duo best known for their 1978 UK Number One Hit Single, "Matchstalk Men & Matchstalk Cats & Dogs." Without any further chart entries they remain one hit wonders in the UK. They comprise two members, Michael Coleman and Kevin Parrott.
The duo had originally been members of a Sax style Soul band called The Big Sound, working mainly in Denmark, Sweden & Germany, but also touring Israel in 1967. The Big Sound had previously backed singer Karol Keyes, now known as the actress, Luan Peters. In Denmark
the band were the backing group to the Danish singer, Rock Nalle.
The act Brian and Michael was originally called Burke and Jerk, a comedy duo composed of Brian Burke and Mick Coleman, formed in 1976, some nine years after Coleman had left The Big Sound. During the intervening years Parrott and Coleman had stayed friends, and Coleman had followed Parrott's recording career as lead guitarist with Manchester rock band Oscar, who were signed to DJM Records.
When Coleman first wrote "Matchstalk Men and Matchstalk Cats and Dogs", he took the song to Parrott. The latter borrowed the estimated £1000 to produce the record which was recorded at Pluto Studios in Stockport, in the same building as Strawberry Studios. Pluto Studios was owned by the former Herman's Hermits guitar player Keith Hopwood. The song was recorded over three sessions starting on 25 September 1977. The brass band on the recording was Tintwistle Brass Band, from the village in Derbyshire where Parrott lived at the time.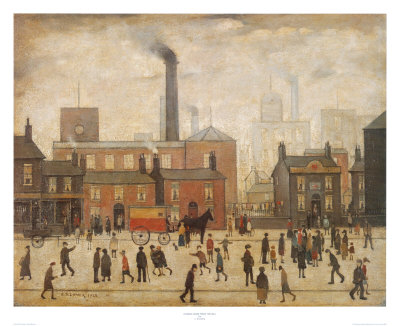 Parrott tried without success to get a release with several record label, but eventually secured a recording contract with Pye Records. However, Brian Burke left the act just a couple of weeks after "Matchstalk Men and Matchstalk Cats and Dogs" was released on 25 November 1977, citing "family reasons".
Parrott left Oscar after 10 years, and teamed up with Coleman again, in the live act to try and keep up the promotion of "Matchstalk Men", and had to be billed as 'Brian'. The first run of records had already been pressed as Brian & Michael before Burke had left the act.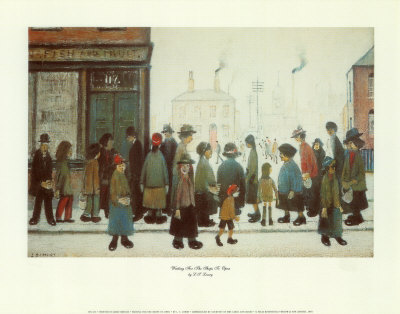 After their success, Brian and Michael released a follow-up single, "Evensong", and an album, The Matchstalk Men, followed by a second album named I Can Count My Friends on One Hand. Similarly, backing singers, St Winifred's School Chior released an unsuccessful album entitled The Matchstalk Children.
Coleman and Parrott remain in the music industry as songwriters and record producers for themselves and other acts. Other chart success as writers/producers were with "The Sparrow" (The Ramblers, No 11 in 1979), and Clare and friends' "It's 'Orrible Being in Love when You're Eight and a Half" (Number 13 in 1987). Coleman also wrote the hit song "Hold My Hand" for Ken Dodd.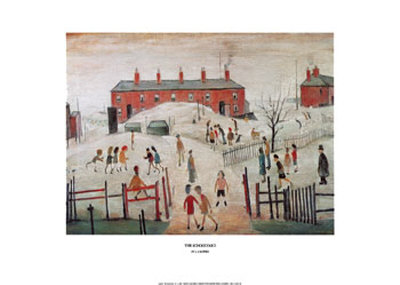 Matchstalk Men & Matchstalk Cats & Dogs
The Lyrics
He painted Salford's smokey tops
On cardboard boxes from the shops
And parts of ancoats where I used to play
I'm sure he once walked down our street
Cause he painted kids who had nowt on their feet
The clothes we wore had all see better days
Now they said his works of art were dull
No room all round the walls are full
But Lowry didn't care much anyway
They said he just paints cats and dogs
And matchstalk men in boots and clogs
And Lowry said that's just the way they'll stay
And he painted matchstalk men and matchstalk cats and dogs
He painted kids on the corner of the street that were sparking clogs
Now he takes his brush and he waits outside them factory gates
To paint his matchstalk men and matchstalk cats and dogs
Now canvas and brushes were wearing thin
When London started calling him
To come on down and wear the old flat cap
They said tell us all about your ways
And all about them Salford days
Is it true you're just an ordinary chap
And he painted matchstalk men and matchstalk cats and dogs
He painted kids on the corner of the street that were sparking clogs
Now he takes his brush and he waits outside them factory gates
To paint his matchstalk men and matchstalk cats and dogs
Now Lowry's hang upon the wall
Beside the greatest of them all
And even the Mona Lisa takes a bow
This tired old man with hair like snow
Told northern folk its time to go
The fever came and the good lord mopped his brow
And he left us matchstalk men and matchstalk cats and dogs
He left us kids on the corner of the street that were sparking clogs
Now he takes his brush and he waits outside them pearly gates
To paint his matchstalk men and matchstalk cats and dogs
And he left us matchstalk men and matchstalk cats and dogs
He left us kids on the corner of the street that were sparking clogs
Now he takes his brush and he waits outside them pearly gates
To paint his matchstalk men and matchstalk cats and dogs
And he left us matchstalk men and matchstalk cats and dogs
He left us kids on the corner of the street that were sparking clogs
Now he takes his brush and he waits outside them pearly gates
To paint his matchstalk men and matchstalk cats and dogs
And he left us matchstalk men and matchstalk cats and dogs
He left us kids on the corner of the street that were sparking clogs
Now he takes his brush and he waits outside them pearly gates
To paint his matchstalk men and matchstalk cats and dogs