Carnaby Street
is a
pedestreanised
shopping street in
London
,
located in the Soho
district, near
Oxford Street
and
Regent Street
. It is home to numerous fashion and lifestyle retailers, including a large number of independent fashion
boutiques
. Streets intersecting, or meeting with, Carnaby Street are, from south to north, Beak Street,
Broadwick Street
, Kingly Court, Ganton Street, Marlborough Court, Lowndes Court, Fouberts Place, Little Marlborough Street and
Great Malborough Street
. The nearest
London Underground
station is
Oxford Circus
(on the Bakerloo, Central and Victoria lines).
Historically, Carnaby Street derives its name from Karnaby House, located to its east and originally erected in 1683. It is not now known why the house was so called. The street was probably laid out in 1685 or 1686. First appearing in the ratebooks in 1687, the street was almost completely built up by 1690 with small houses. A market was developed in the 1820s; in his novel, Sybil (1845), Disraeli refers to "a carcase-butcher famous in Carnaby-market".
In 1934, Amy Ashwood Garvey and Sam Manning opened the Florence Mills Social Club, a jazz club which became a gathering spot for supporters of Pan-Africanism. 1958 saw the first boutique, His Clothes, opened in Carnaby Street by John Stephen (after his shop in Beak Street burned down) and was soon followed by I was Lord Kitchener's Valet, Kleptomania, Mates, Ravel, and others.
By the 1960s, Carnaby Street proved popular for followers of both the Mod and Hippie styles. Many independent fashion boutiques, and designers such as Mary Quant, Marion Foale and Sally Tuffin Lord John, Merc, Take Six, and Irivine Sellars were located in Carnaby Street as well as various underground music bars such as the Roaring Twenties in the surrounding streets. With bands such as Small Faces, The Who, and Rolling Stones appearing in the area to work (with the legendary Marquee Club located round the corner in Wardour Street), shop, and socialize, it became one of Swinging London's coolest destination associated with the Swinging Sixties.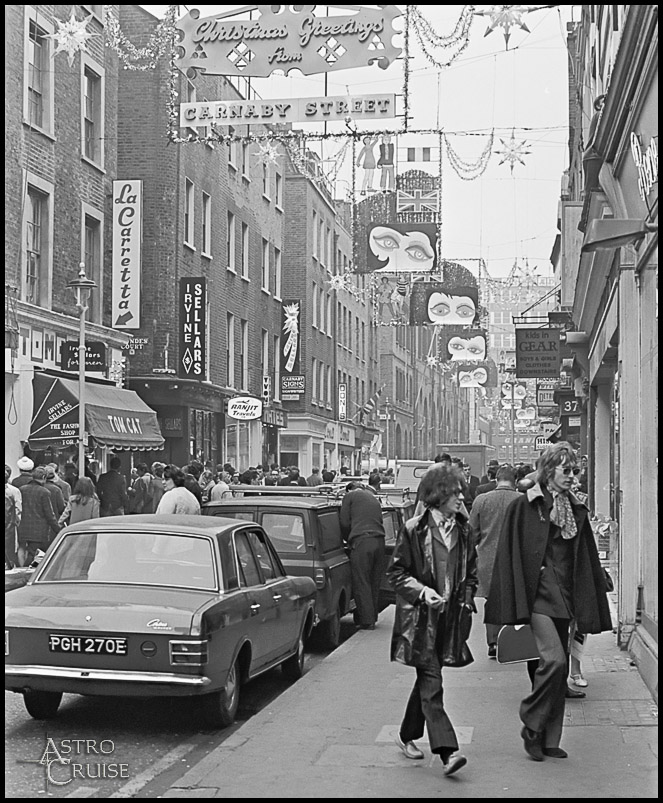 The Carnaby Street contingent of Swinging London stormed into North American and international awareness with the April 15, 1966 publication of Time Magazine's cover and article that extolled this street's role:
| | | |
| --- | --- | --- |
| " | "Perhaps nothing illustrates the new swinging London better than narrow, three-block-long Carnaby Street, which is crammed with a cluster of the 'gear' boutiques where the girls and boys buy each other clothing... | " |
In October 1973, the Greater London Council pedestrianised Carnaby Street. Note that the pedestrianisation was only partial i.e. taking place between 11 am and 8 pm daily. A comparison of before and after number of pedestrians entering the pedestrianised area indicated a 30% increase in pedestrian flows into Carnaby Street as a result of the pedestrianisation. A campaign commenced early in 2010 to call for a similar exercise to be undertaken in the adjacent area of Soho.
There are two W estminster City Council green plaques on Carnaby Street: the first can be found at 1 Carnaby Street and is dedicated to fashion entrepreneur John Stephen, who was responsible for beginning the Mod fashion revolution here. The second plaque, located at 52/55 Carnaby Street, is dedicated to the Mod pop group The Small Faces and their manager Don Arden.
Carnaby Street was an already well-enough established phenomenon to be satirised by the 1967 film Smashing Time. One of the songs, entitled 'Carnaby Street', features the lyric: You'll pay for the gear on display to appear on the scene/ It's no good being mean/ They'll have your every bean.
In 1966 Harry Fox and Henry Moss together opened the doors of Lady Jane, the first ladies' fashion boutique in the street, to the world. They soon parted company and Harry Fox went on to add Lady Jane Again, Lady Jane's Birdcage, a souvenir shop and a men's wear shop, Sir Harry, to his empire. Stars from around the world made Lady Jane a must see on their trips to London, including Jane Mansfield who arrived in a blaze of publicity. Harry Fox, the president of the Carnaby Street Trading Association, lobbied local government to have the first sign, 'Carnaby Street Welcomes The World' hung high above the street, and later ensured the street was pedestrianised to make it easier to find and enjoy.
In 1969, Peggy March recorded an album called In der Carnaby Street, with a hit song of the same name.
There is a song by The Jam called "Carnaby Street", written by bassist Bruce Foxton. It was the B-side of single "All Around the World", released in the UK on 8 July 1977, reaching a chart position of number 13. It never appeared on any studio album, but can be found on the collected works of The Jam boxset Direction, Reaction, Creation.